As hybrid work becomes the new norm, companies are faced with the issue of having to provide their employees with an adequate workplace as they return to the office. An in-demand office solution for companies across the nation is coworking and shared office spaces as they support flexibility through the unique features, amenities and services they offer. With new work from office expectations, as well as a flexible work schedule, office space owners and operators have no option but to adapt. So, inevitably, the office real estate world has seen some changes as modern workplaces are becoming the popular option for those looking to work from an office.
Open Space Design
One of the main issues with working remotely is that it eliminates human interaction among colleagues and reduces the opportunities for collaboration. As such, employees are focused on getting their work done and engage in interactions with other colleagues on a need-only basis. To tackle this issue, companies are looking for office spaces that can support a collaborative work environment. Coworking and shared office spaces are a great option as they provide an open space layout as opposed to cubicles or individual office spaces. While such office spaces also provide video-enabled conference rooms and private workstations for those needing them, the overall layout encourages users to work in an open space with other users. As a response, coworking and shared space owners and operators have made changes to their offices to accommodate the need for such design, seeing the increase in demand for such spaces as opposed to traditional office spaces.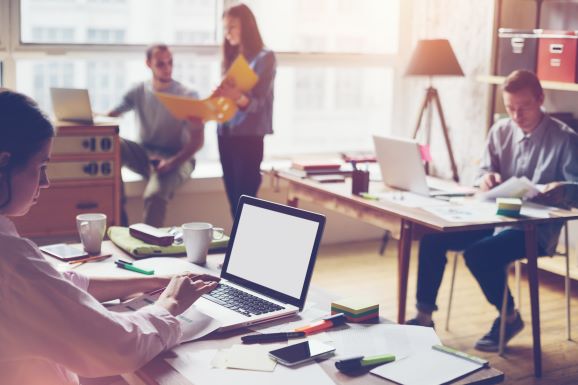 Smaller Footprint
Since many employees have relocated during their time working from home, having a single office location is not the best solution for many companies across the nation. With hybrid work being the preferred work alternative in the future, companies are likely to decrease their footprint in certain locations and opt for having multiple, smaller office spaces in various cities. This allows employees to have access to an office without having to relocate to a single location, enabling them to fully embrace hybrid work and flexibility.
Consumer-Oriented Office Spaces
For hybrid work to actually work, offices need to provide users with all the necessary features and amenities required to enable productivity. Even more, for users to want to give up the comfortable remote work environment they have created in the past two years and choose to work from an office space. For this reason, office spaces need to be customer oriented. This means that companies will look for offices designed around the needs of their users. The one-fits-all office model will no longer be enough and office space owners and operators will have to be open to making the necessary modifications to support their users' needs to see an increase in the occupancy rate of unused space. However, this doesn't resume to just those choosing to work from the office. Modern office spaces have to also consider how they can accommodate the experience of the virtual workers of a company.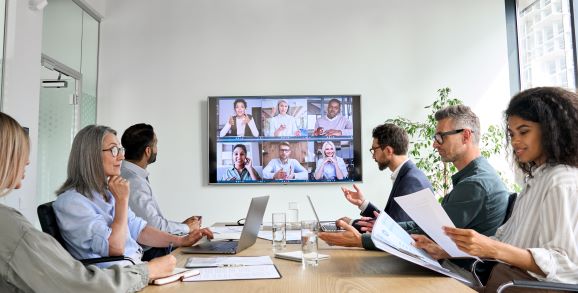 Modern & Technology Advanced Features
Hybrid work requires many technology-advanced features for it to work efficiently for the entire company, including both those working from the office and those working remotely. To do that, offices need to be equipped with modern amenities and technological features that enable users to get their work done while being able to easily communicate with fellow colleagues. Modern offices should include everything from high-speed internet and Wi-Fi, video and audio enabled conference rooms, modern computer systems, improved HVAC systems, member mobile apps for easy bookings and touchless technology. With these being some of the main requirements companies will have of office spaces, owners and operators will have to make the necessary updates to make their spaces more appealing to companies looking to rent an office to provide their employees with the flexibility of hybrid work. The office real estate world has seen great changes since hybrid work became the new normal, and it is likely to change further. Modern offices, equipped with high-end technology, customer-oriented amenities and features and the open space design often offered by coworking and shared spaces will be the in-demand choice for companies as they push for a return to the office. As such, coworking space owners and operators will have to adapt to supply adequate workspaces for their customers. Fortunately, tools like the Yardi Kube coworking software can make managing coworking spaces easy and efficient. For more information on how the software can help your space be a valuable asset in the future of the office real estate world, schedule a customized demo.