Since Phoenix's tech scene started gaining momentum, more and more coworking hubs began popping up in the city to meet the demands of eager entrepreneurs, freelancers and start-up companies choosing to base themselves in the Arizona metropolis. Today, the supply of coworking spaces in Phoenix is quite high. So, to save you some precious time, we did the legwork for you and shortlisted some of the shared office spaces that might pique your interest.
Address: 2 N. Central Ave., 18th & 19th Floors, Phoenix, AZ 85004
Spaces is a designer workspace situated in Phoenix's downtown core. The contemporary design that can be seen throughout enables creativity and inspiration. Therefore, it can cater to your business regardless of what stage it's in. Spaces is also easily accessible by car and train and is situated just 10 minutes from Phoenix Sky Harbor International Airport, which is ideal if you need to meet your clients or business associates.
The sleek business hub is also a fantastic place to mingle with like-minded entrepreneurs. The on-site restaurants can help fuel your energy, while the bars, terraces and cafes that can be found along the street provide ample opportunity to meet up with others in an informal setting.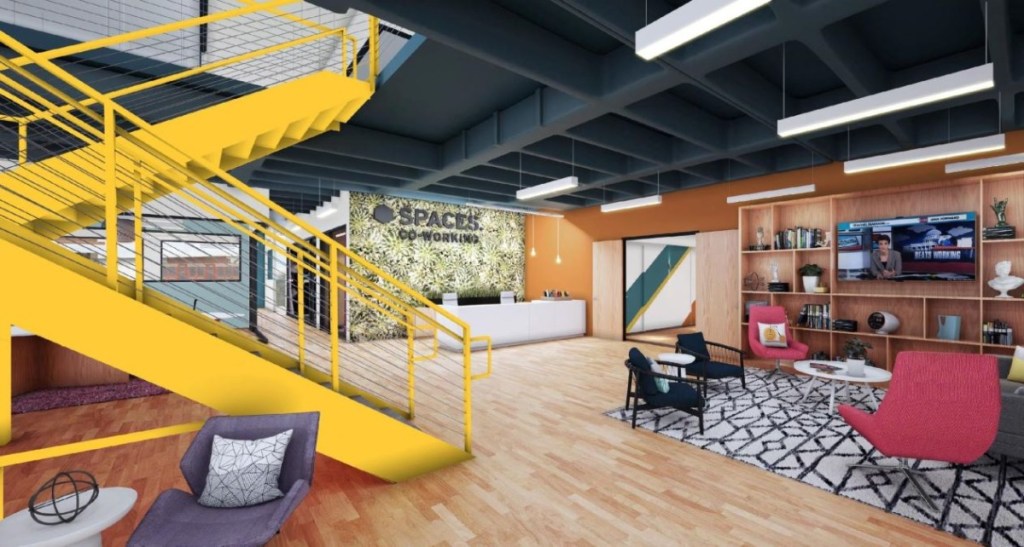 Address: 4742 N. 24th St., Suite 300, Phoenix, AZ 85016
Located in one of the most sought-after buildings in the Financial District, Premier Workspaces is based at Elevate 24, formerly known as Camelback Commons. Specifically, the Class A office building is within close proximity of two 18-hole, championship golf courses and offers exceptional views over Camelback Mountain.
The flexible terms; modern, furnished offices; mail collection; support services; professional address; and impressive meeting rooms are some of the coworking hub's finest assets. Meanwhile, the on-site deli is open for breakfast, lunch, and snacks, while the shared, equipped kitchen is at your disposal if you wish to prepare your own meal.
Address: 101 N. 1st Ave., Phoenix, AZ 85003
WeWork offices are renowned for their stylish interiors, fantastic amenities and abundance of perks, and the 101 N. 1st Ave. space is no different. Situated in an emblematic edifice at the very heart of the city, the coworking office's central location offers many advantages. For instance, it can be easily reached via train or bus; offers on-site parking; and is merely a stone's throw away from important sights — such as Symphony Hall and the Orpheum Theater — making it a great starting point to woo your clients.
Plus, the staff makes sure that all of your requests are fulfilled while working from the office space. There are also a handful of different workspaces you can choose from, ranging from private offices and hot desks to full-floor offices and dedicated desks.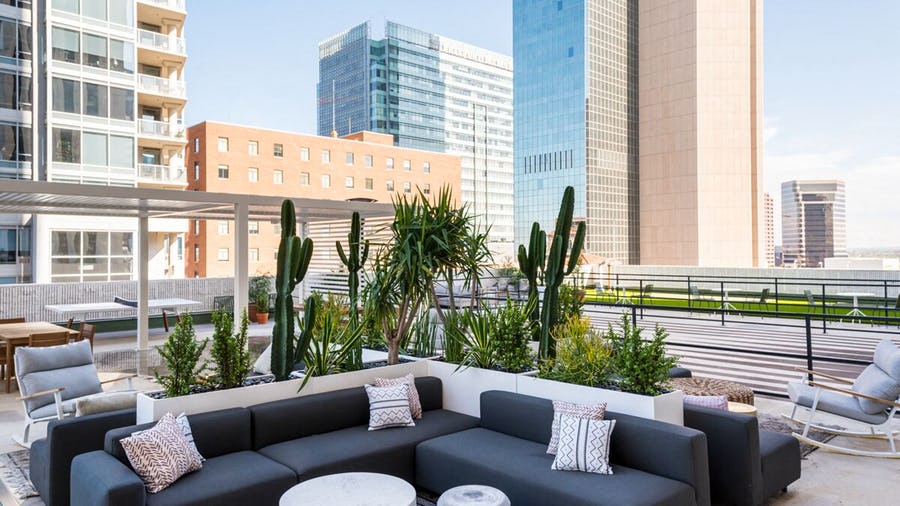 Address: 2415 E. Camelback Road, Suite 700, Phoenix, AZ 85016
Secure a workspace at the Regus office located on the 7th floor of the iconic Esplanade III building and enjoy unobstructed views over Camelback Mountain and the Phoenix skyline. This central location guarantees easy access to major transportation connections, and everything downtown has to offer, including shops, restaurants, bars and more.
As for the workspace, you know you'll be in good hands when it comes to Regus. Here, you can opt for private offices for your team; dedicated or hot desks if you're a solopreneur; virtual offices so you'll have a professional business address; and meeting rooms for your next training session, interview or pitch. Flexible membership access is also available, which you can use at any Regus location worldwide.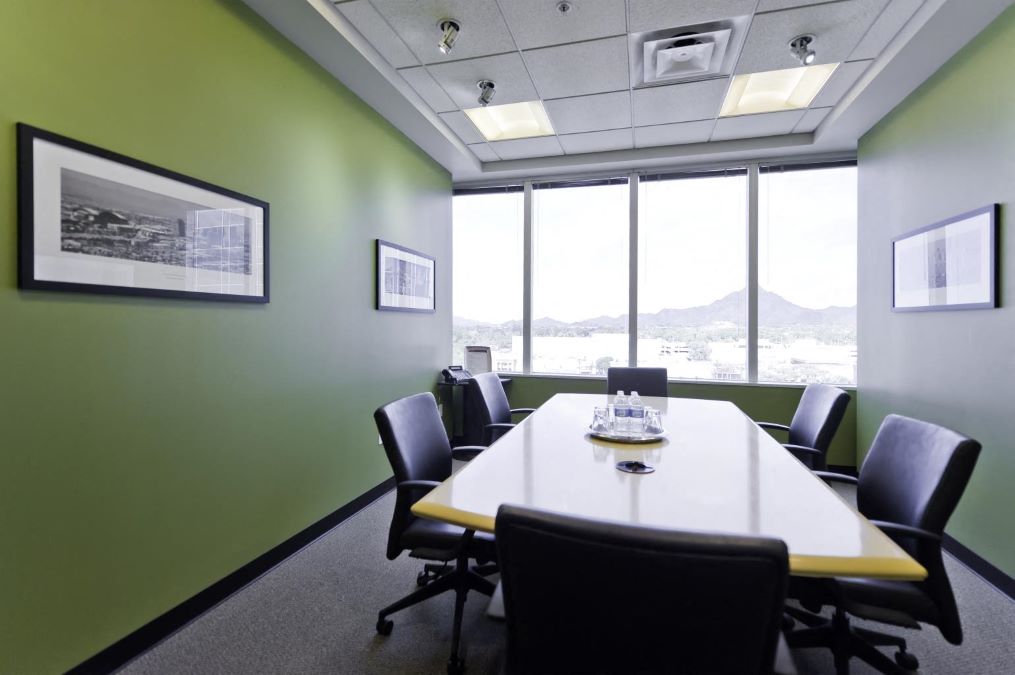 Address: 410 N. Scottsdale Road, 10th Floor, Tempe, AZ 85281
Boasting an unbeatable location with exquisite Salt River and Camelback Mountain views, this WeWork flexible workspace was designed with creativity in mind. In particular, the light-filled lounges will help your team stay focused and productive, while the sleek, private offices and conference rooms will provide a professional setting for your business activities.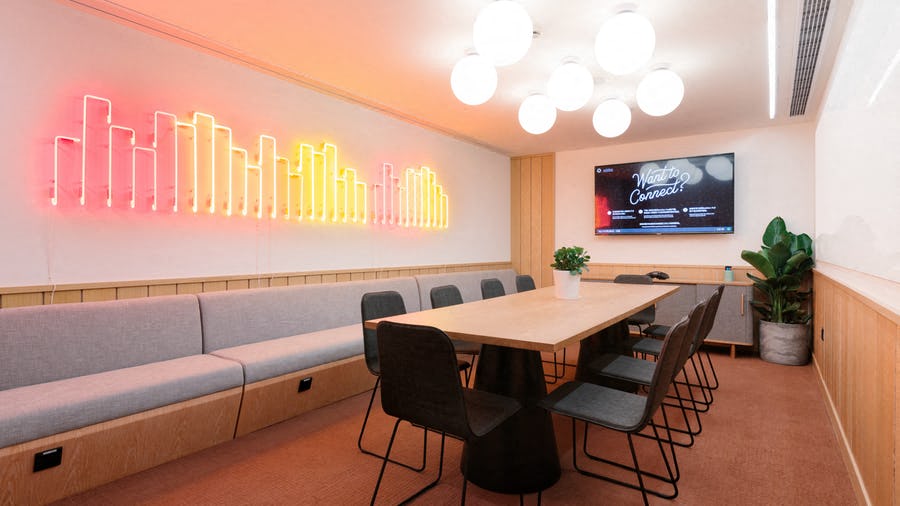 These WeWork offices can be easily reached via the 202 and on-site parking is always available to members. Then, once you've completed your workday, take your client out for a fancy evening at one of the many bars and restaurants on Mill Avenue; treat your team to a picnic in Rio Salado Park; or work out at the fitness center located just below the offices.
While all these workspaces are quite amazing, there's one thing you need to consider: Always choose your workspace based on the aspirations of your organization. Then, select a location that your clients can easily access; make sure that all the available amenities work for you and not against you; and pick the place that you can feel inspired in.