As a coworking space operator or owner, having the proper tools to manage your space is essential. For this reason, many owners and operators rely on workspace management software solutions. One such coworking software is by Yardi Kube. With its all-in-one flexible management platform, Yardi Kube allows you to market your space, streamline operations, enhance member experience and provide enterprise-level technology, among other features. But how does this help your members? With the Yardi Kube member mobile app, your members can make the most of the coworking space, while enjoying a premier user experience. Here are the top five features of the app members like best:
Book a Space
One of the most important features of the Yardi Kube member mobile app is that it allows members to reserve a workspace, whether it's a private office, desk area or a meeting room, directly from the app. This way they know ahead of time which features they have booked, for how long and how much it will cost. Especially now, as companies are returning to the office amidst the COVID-19 pandemic and preparing for the new future of work, this mobile feature is extremely important as it eliminates physical contact between members and coworking office staff.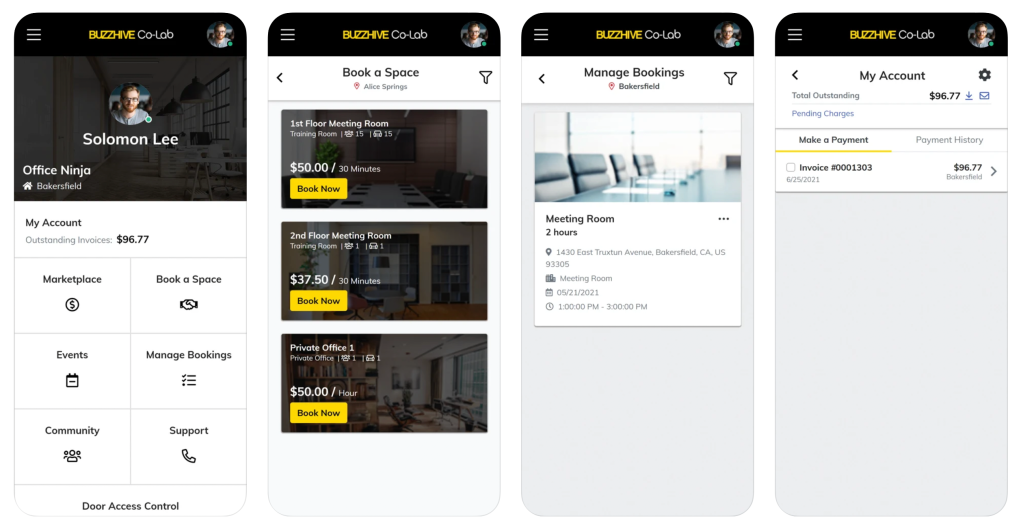 Manage Bookings
Another important feature when it comes to bookings is being able to manage that booking from within the app. This includes everything from changing the booking time, date and location, to canceling, if necessary. This is helpful in case members need to make last-minute changes to their reservations, regardless of whether it's early in the morning or late at night. Enabling this kind of self service allows members to make changes themselves at any time, without having to wait for communication or confirmation from office staff.
Pay Invoices Online
One of the many changes necessitated by the pandemic is the increased adoption of electronic payment processing. With the Yardi Kube mobile app, members can conveniently pay invoices or outstanding charges from any device. Each invoice lists the services covered, allowing members to see exactly what they are paying for. Furthermore, members can pay for any additional services and products they may have booked using the mobile app. Members are ensured secure and timely payments of invoices and balances due in their accounts.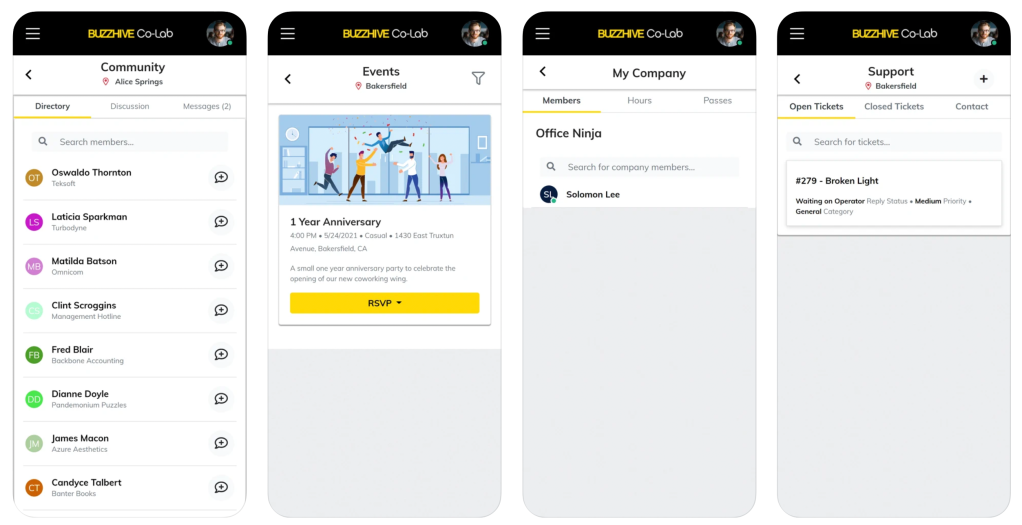 Communication and Support
The Yardi Kube member app allows members to take advantage of coworking spaces even before making it to the office. However, having support while using the workspace is also important. Fortunately, the app allows members to request support when they need it, whether it's internet failure, plugs that don't work or broken chairs, and receive updates about when the issue will be fixed. By ensuring that issues are resolved in a timely and efficient manner, you provide members with high quality service and an excellent user experience. In addition to communicating with facility managers and connecting with the operators from anywhere via the mobile app, members can communicate with one another, supporting collaboration in the coworking space.
Community and Events
Along the same lines as communicating with office staff and fellow members, the Yardi Kube app provides your members with access to the events happening within your coworking space. They can find event details and RSVP from within the app and stay up to date with all the latest news. Furthermore, the app allows members from all companies to be able to communicate with each other and establish a work community based on shared beliefs and passions.
The Yardi Kube member mobile app is a valuable resource to offer your members. The features it provides make it easier for users to take advantage of all the amenities your coworking space has to offer and delivers a superior user experience that helps retain members. In addition, these features improve operations and enable better workspace management.
For more information regarding the Yardi Kube coworking software and member mobile app, schedule a live demo.