The beginning of the COVID-19 pandemic came with challenges for coworking spaces. Although undoubtedly a rising popular option for many companies around the world, with work-from-home becoming the main, and in some cases, the only option for employees in the last (almost) two years, coworking spaces had to close their doors.
However, with safety measures in place and an optimistic future in mind, coworking and flex spaces are adapting to welcome their members back and further promote a trend that has already grown roots before the pandemic.
As an owner of such coworking space, marketing is more important than ever before. While work-from-home remains popular among employees, the need for a proper office workspace has not been eliminated, making coworking and flex spaces a logical and natural fit in the future of work as it leans towards a hybrid work dynamic. With more members eager to provide their employees with a proper and safe workspace, it's essential to have an effective marketing strategy.
Below are some marketing tips that will allow you to attract the right members by showing why your space is the best option for their return to the office.
Clearly State the Implemented Safety Measures
While returning to an office setting is something many hope to do, it requires certain health measures to be in place for it to be done safely. For this reason, advertising the safety measures you have implemented to ensure the users' health and safety in the coworking space is a great way to attract new members and keep your existing ones. Be specific and provide clarity on what members can expect if they choose your coworking spacs. Include everything from how many sanitation stations you have across the workspace, social distancing measures between desks and even the use of COVID health surveys for users, to name a few.
Virtual Tours
While you can easily use words to describe your coworking space, it still doesn't do it justice like a virtual tour. You can choose to have it available on your website, ready to send to prospects when they inquire about the space or even upload it to your social media platforms. Make sure it is high-quality and that it clearly shows what your space has to offer. Don't focus only on the big picture, but also on the small details, such as the unique features of the conference rooms, the sanitation stations and the amenities in the common areas. Also, state in the video what makes your coworking space unique and ensure your contact information and the location of the space are included.
Understand Your Customers
Although important even before the pandemic, knowing and understanding your customers is essential when marketing your coworking space. Whether freelancers, small business operators or large companies, knowing who your members are and what they look for in an office space is the best way to ensure that they will choose your space when returning to the office. Therefore, take a look at who your members were or are at the moment, but also who else you could attract to better plan your marketing strategy. Consider where members found your location to know what platforms you should leverage. Determine why members are using that platform, on what frequency and what is important to each of them. This will allow you to attract the right members, and keep those you had in the past, by ensuring your space provides them with exactly what they're looking for.
Invest in SEO and Content Marketing Strategies
To ensure your coworking space website is easy to find, take advantage of good SEO practices. Consider the keywords you want to rank for that best define your space and make sure to have them present in your website, blog articles and even URLs and meta descriptions. Furthermore, optimizing your content and including keywords which are specific to the location where your coworking space can be found, will greatly increase your chances of bringing leads to your website and so members to your space.
Allow for In-Site Booking of Low-Commitment Services
While some members are looking for long-term commitments when it comes to coworking spaces, there are many freelancers and small businesses looking to only book a desk or a conference room, depending on their needs. To attract and accommodate these members as well, you want to ensure that they book low-commitment services within your space and that they can do so as easily as possible. For this, your website needs to be up to date and allow members to easily book a desk, conference room or even a day or week pass without using third party sites or apps. This essentially means having an intuitive, user friendly website that attends to all your members.
Social Media Marketing
The use of social media has greatly increased since the start of the pandemic, keeping friends, family, coworkers and people all over the world connected. It is only natural that marketing has extended even further to cover these platforms, as well. It's for this reason that you should consider advertising your coworking space on social media. This can allow for future members to run across your space and not only take advantage of it, but also share it with their connections.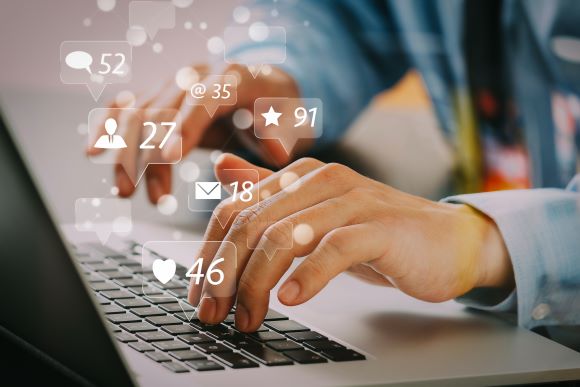 Email Marketing
Although one of the older, more traditional ways of marketing, email marketing campaigns remain one of the most cost-effective, with a high potential of return-on-investment ways to attract members. It involves minimal costs and plenty of flexibility when it comes to drafting the messages that reach the users. Furthermore, it allows you to be in direct contact with future members in case of any questions regarding your coworking space.
As returning to the office becomes more and more possible, the demand for coworking spaces is likely to increase. And with it, the need for a marketing strategy that shows why your space stands out. With a thoughtful marketing campaign and powerful coworking software, like the one provided by Yardi Kube, you can make your coworking space thrive in a post-COVID future.