Providing occupiers with the right work environment is essential to ensuring their satisfaction. This relies greatly on creating the right conditions for workspace energy which allows users to feel relaxed, happy, productive and able to easily connect and collaborate with others. When it comes to coworking spaces, this responsibility falls on owners and operators to ensure their spaces provide their users with everything they may need and require, motivating them to give up their remote work setup in favor of working from an office. Here are some trends and tips to consider, to help create and improve the work environment in your coworking space.
Space Proximity
Having to work remotely for the past two and a half years, users adapted to being productive on their own. However, collaboration and building meaningful connections with coworkers or other employees are essential to workplace well-being. As such, coworking space owners and operators should focus on ways to provide users with an environment that enables them to connect and build such relationships with other users. This will help users benefit from a different work setting than the remote one they are used to by focusing on collaboration which supports user experience and productivity.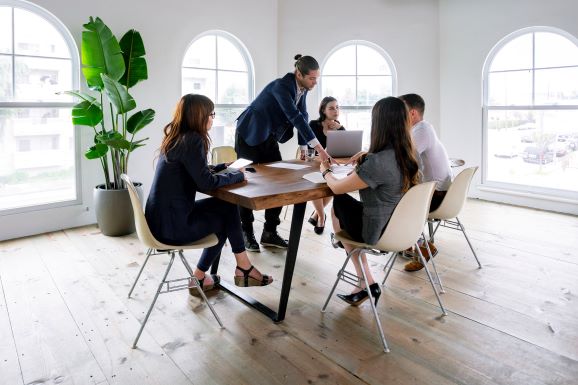 Furthermore, encouraging movement in the workspace can help users feel more involved and welcomed. Things such as central copiers and conference rooms, shared break areas and even glass walls enable a sense of community among users, making them feel more comfortable and connected to those around them. Being able to interact in the workplace is a great way to ensure that those using shared office spaces enjoy the work environment and are eager to such a space.
Natural Elements
Incorporating natural elements in the workspace is a great way to support the work environment. Things found in nature such as plants and water elements are considered to help reduce stress in any environment. As such, designing the workplace to include some of these elements can be a great way to provide occupiers with a comfortable work environment. Along the same lines, glass walls allow workers to embrace the open space environment and feel more connected with the other users while allowing for natural light to come through. This idea of bringing nature into the workspace can be a great way to create a more unique, less stressful and welcoming work environment for users.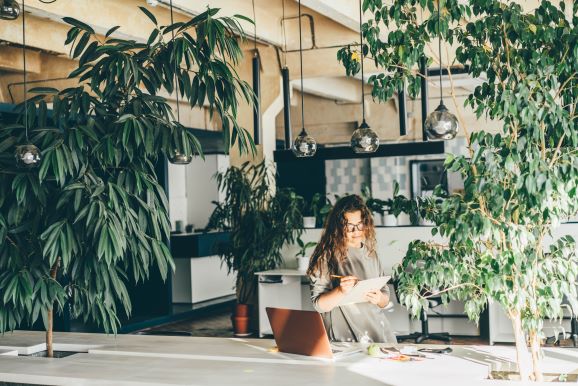 A Healthier Environment
Ensuring the right work environment for occupiers also means providing them with health and safety. This means investing in a highly efficient HVAC system that supports a high quality of air. Fresh air and having the right in-office temperature can be key to the productivity of users. Also, providing safe drinking water throughout the workspace can be a great way to make sure users are comfortable and have easy access to basic human requirements. Along the same lines, providing healthy snacks, like fruits and vegetables, can be a great way to show your support for healthy eating. This can be a great way to provide users with the boost they need during the day to get their work done and make them feel valued in the workspace. Windows and natural light are essential to eliminating headaches, eyestrain and blurred vision symptoms, thus supporting a healthy and comfortable work environment.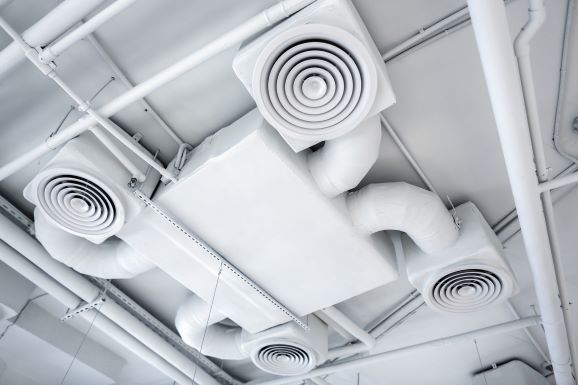 Encouraging movement in the workspace is also important as exercise increases blood flow to the brain, giving them a boost of energy to ensure productiveness. To do this, consider open and easily accessible stairways, bicycle storage for those choosing to ride their bikes to the office and even a dedicated workspace within the office. Also, standing desks, different work areas to choose from and breakout areas can be a great way to make your users feel comfortable and willing to engage with other users and work more efficiently.
As a coworking space owner and operator, providing your users with the right work environment is key to ensuring that they want to use your space and return to it in the future. As such, investing in some of the above-mentioned features and trends is important. To best manage your space and provide your occupiers with the right work environment and the best user experience, check out Yardi Kube coworking software.