Hybrid offices and flexible work schedules are perhaps the biggest changes in workforce behaviors in decades. Companies planning for employee re-entry are now bracing for challenging times: how do we accommodate remote-friendly policies while keeping a vibrant, collaborative, empowering physical office space? For many employers, flexible workplaces are an ideal solution post-pandemic: shared and coworking spaces allow for hybrid work schedules, shorter lease terms and ensure the productivity and well-being of their teams.
As business leaders embrace hybrid work and more corporate occupiers turn to shared spaces, we are witnessing an industry shift that sees the line between coworking and traditional office spaces being blurred. Fortunately, Yardi is uniquely positioned to help coworking and shared space operators navigate the challenges brought by this industry shift. Alongside Yardi Kube, the industry's most complete coworking and flex space management software, Yardi has reacted to the changes in the industry and has expanded its traditional commercial listings platforms to showcase coworking availability.
To give more visibility to flex office options and generate more leads for coworking operators, traditional and coworking office spaces are now shown together on CommercialCafe.com. Coworking spaces are being showcased by default on the map across the ILS network. This allows occupiers to visualize the location of coworking spaces and traditional office spaces in any given city across 320,000 listings.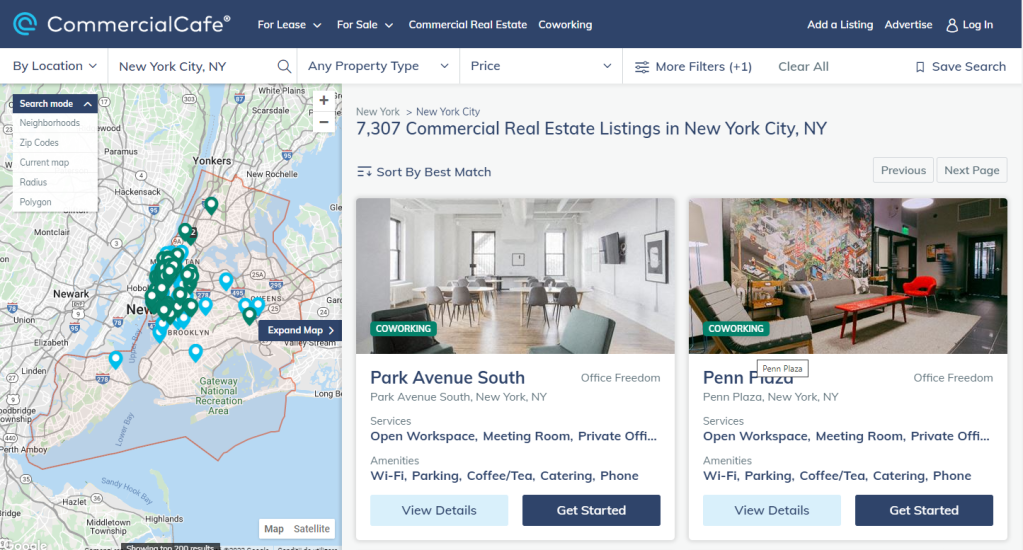 Furthermore, coworking space listings will have a clear flag to highlight "coworking" to make it easier for occupiers to browse the listings. Coworking clients can even choose to have their properties listed as premium allowing them to be featured in the center of a search to generate increased exposure and conversions.
With 2 million visits each month, the Yardi commercial ILS network generates over 300,000 leads per year. The network of websites now includes CommercialCafe, CoworkingCafe, CommercialSearch, Point2, PropertyShark and 42Floors. Yardi has heavily invested in SEO and SEM to ensure that clients get more leads, which has led to a year-over-year increase of 500%.
Flexibility is the most efficient way to adapt to change and with the changes seen by the industry in the last two years, we can expect more companies to embrace this dynamic and start looking for shared spaces and shorter lease terms. Blending traditional office space searches with coworking allows every occupier to find the property that best suits them while giving coworking operators the visibility they need to fill in spaces quicker.