Virtual offices have served a great purpose during the pandemic as they allowed coworkers to keep in touch and collaborate without being together in an office. They have allowed employees to save money, eliminate commute time and even support flexible working hours. Taking remote work to another level, virtual offices allow those working remotely to have access to all professional features associated with a traditional office. Here are some of the main benefits of virtual offices and how they support flexibility in the future of work.
What is a Virtual Office
A virtual office is a virtual work environment that allows teams to work together, build connections, collaborate and enhance company culture. It combines remote and in-office work in a way that allows users to virtually feel like they are in an actual office. The interactive platform offered by virtual offices allows users to work in an office on their computers. They can participate in meetings, interact with other users and even communicate with coworkers all within the platform, which resembles a real-life office setting. Users can be seen walking around an office, as represented by their profile pictures, and they can interact by simply walking up to other users seen in the office, on the computer screen. And all this can be done from any remote location, which lessens the need for companies to lease traditional office space.  
Flexibility
Virtual offices allow for flexibility by eliminating the constant need for a physical office location. Employees can work remotely through a virtual office while companies can lease coworking spaces to provide those willing to work from an office with the possibility of doing so. This allows businesses to operate from anywhere, allowing users to do the same and according to a schedule that supports productivity. This provides users with access to high-end technology in coworking spaces and companies with access to a larger talent pool, while eliminating the need for long-term leases. With the help of coworking software, coworking space owners and operators can ensure that their spaces can provide their users with everything they need to adapt to a hybrid working model using a virtual office.
Collaboration
Increased collaboration is a great benefit of virtual offices as it allows employees to work together with other teammates from a virtual location. They provide office floor plans which show employee availability and allow for drop-in discussions as opposed to meeting-based interactions. This eliminates the formal and impersonal approach to collaborating with others via email or planned video and audio calls. Virtual offices can be a great way to support the company culture and the well-being of employees. Furthermore, for those working from a coworking space as opposed to their remote location, they can keep in touch with all team members through the virtual office.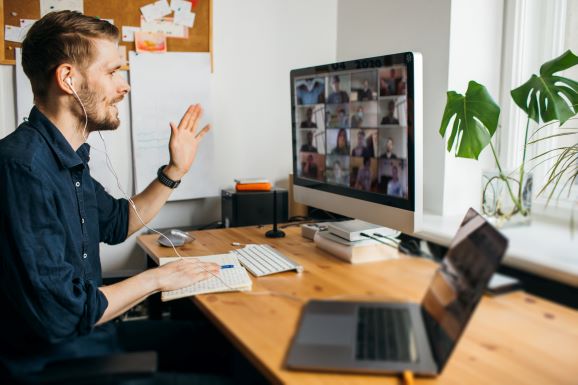 Expanding Businesses
Companies can easily expand with the help of virtual offices as the hiring process doesn't revolve around a single office location. They can reach a larger talent pool and employees can work from anywhere without losing contact with the other colleagues. Coworking and shared office spaces can also be a great solution for companies that want to provide their employees with an office location to work from. This location can be anywhere, and the amenities offered by such spaces allow them to stay connected to teammates while working comfortably and productively from a unique office space.
Virtual offices can be a great way for companies to combine remote work with employees working in-office as hybrid models are taking over the future of work. Along with coworking spaces, this may be the best way to provide companies with the flexibility needed to embrace working in the future. Coworking space owners and operators should consider this idea of an office and ensure that they provide their users with all the necessary features and amenities to support this flexible work dynamic. With the help of coworking software, like the one provided by Yardi Kube, this can be easily implemented, and spaces properly managed to ensure the best user satisfaction.