The COVID-19 pandemic has had a great impact on the office sector. While coworking spaces were a popular option among startups and individual members, they have become a top choice for corporate occupiers, as well, due to the flexibility they offer in lease terms and facilitated office culture. With an increased demand for hybrid workspaces and flexible office options, coworking space operators must understand their occupiers and take advantage of this shift to market their space and increase revenue. It's for this reason that GWA and Yardi Kube partnered to deliver a webinar on how coworking operators can capture corporate occupiers. Here are some of the topics that were covered.
Office Re-entry and Personalized Office Spaces
The ongoing and constantly evolving pandemic has been pushing back the office re-entry dates for my companies across the country. As such, as corporate occupiers are considering embracing hybrid spaces and flexible solutions for bringing their employees back to the office, operators have to consider how they want to present their spaces to this new category of customers. Kris Elliott from Expansive and John H. Vieregg from CoCoTiv both believe that presenting future members with a space planning idea that features unique design elements is very important. Essentially, what does the coworking space environment offer that not only attracts corporate occupiers, but that also tends to their needs?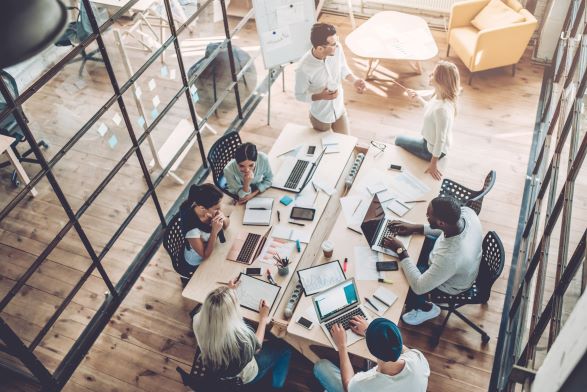 Hybrid Work and Hybrid Spaces
As Brian Sutherland from Yardi mentioned, turnkey offices were a traditional solution many corporate occupiers preferred in the past. Having everything they need for a properly functioning office space provided by the landlord is still an ideal and preferred solution, however, flexibility is key. To attract them, operators must understand the occupiers' needs for a coworking space: a short-term lease and flexible office solutions that allow for both working from home and working from the office. Consider a hot-desk configuration in your coworking space to address this hybrid model.
Tend to Occupiers' Needs
Understanding and tending to members' needs is essential in attracting them and ensuring that they feel comfortable in embracing this new type of office work. Making sure that coworking spaces provide their members with high-end technology is essential in accommodating hybrid work. As Vieregg and Sutherland mention, working amidst a world pandemic has further increased the need for advanced technology which allows people to connect and brings them together regardless of where they're working. Also, designing the space used by a corporate occupier in a way that is customized to that company is a great way to ensure they feel more welcome and comfortable using a coworking space.
Furthermore, understanding the advantages of hybrid work makes it that much easier to attract corporate occupiers and tend to their needs. Highlight the fact that coworking spaces with multiple locations facilitate talent acquisition and retention. Rather than all employees reporting to a single office, they can go to the coworking site nearest them to benefit from culture and collaboration. As the speakers discussed in the webinar, a new generation of employees comes with new expectations, such as hybrid work being the standard. This is easily accommodated in coworking spaces.
Coworking Spaces Down the Road
The presence of coworking spaces in the future is inevitable and the demand for such spaces is likely to increase going forward. As a coworking operator, clearly marketing what the space has to offer is essential. Small private offices allow for usage a couple days per week. Offering solutions with shorter lease terms while still driving revenue is key.
However, being aware of your needs as an operator is important as well. On this matter, Vieregg discussed the issue of corporate occupiers requesting to hold a space for a specific time in the future. Consider taking a deposit if there is significant downtime between when the request is made and when the space will be used. This will provide a revenue cushion should the reservation be canceled at the last minute.
The future of work brings with it a flexible, hybrid solution. While members are embracing this new normal, coworking space owners have to ensure that they provide the smoothest transition possible. Personalized spaces that tend to member needs and offer advanced features will help attract and retain traditional members and corporate occupiers. It's important to look forward, strategize and accommodate the advantages of this new office scene and make the collaboration between owners and occupiers as easy and productive as possible.