With the pandemic forcing companies to embrace a "work from anywhere" policy faster than they may have anticipated, the need for flexible workspaces rapidly increased to accommodate employees' needs in terms of a workplace structure. For this reason, this year's GCUC North America Conference focused on providing traditional office landlords and entrepreneurs with all the necessary information on the Fundamentals of Flex. As research shows that employees are in favor of flexibility when it comes to adapting to the new normal of working, office space owners and providers have no choice but to adapt.
Structuring the Real Estate Deal
Fortunately, as Giovani Palavicini, principal, flexible office solutions at Avison Young, indicated in his presentation, Structuring the Real Estate Deal, coworking spaces grew by more than 1,000% in the last decade. The concept of flexible workspaces was introduced some time ago, with the ideas of coworking and shared spaces now becoming widely accepted in the industry.
The Next Generation of Office Real Estate
However, as Anthony Slumbers, co-founder at Real Innovation Academy, mentioned during his presentation on The Next Generation of Office Real Estate, the pandemic upended office real estate. Coworking and shared space owners had to modify and adapt their businesses to account for the new needs of both buildings and users set by the pandemic. The need for a technology-advanced workspace shifted from the idea of just having high-end technology within the building to that of the future of the company depending on the workplace itself being a software. This meant that not only did office space owners need to provide users with advanced technology to tend to their needs, but that the only way the business would thrive is if it could also have access to real-time data about the building and its use.
Slumbers even went as far as saying that the pandemic showed that the office and work were not concepts joined at the hip. So, with a lack in demand for office spaces, flexible working is the defining derivative of the future of work. With it, new KPIs focused on sustainability, flexibility, health and well-being are expected to become highly relevant to ensure a happy, healthy and productive work environment.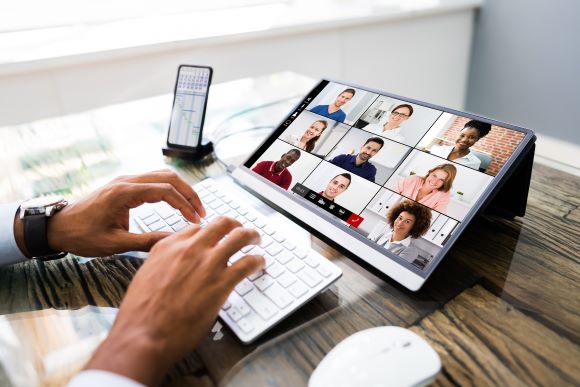 What Do Hybrid Teams Actually Want?
Along the same lines, Nicole Renée Vasquez and Madeline Hoag from Deskpass showed in their presentation, What Do Hybrid Teams Actually Want, that according to a survey conducted by their company, employees expect freedom of movement as part of the future of work, with activities being spread out geographically and through different times during the day. In fact, from their study, 69.7% indicated that they would still prefer working from home going forward, but that they would also like to return to the office, or a coworking space, at least for a couple of hours during some days to finish off the work they started at home. This means that people are not willing to give up the office as a workspace completely, but that they would rather embrace a hybrid work schedule.
However, coworking spaces need to offer users certain features to encourage them to use such a space, including phone booths for virtual calls and designated quiet areas, coffee/tea and high-end technology. Other important factors, according to the study, include the coworking space being close to their home, the productivity within the office and the Wi-Fi connection.
But to attract users, whether teams or freelancers, the coworking space needs to provide them with more than just tangible features. Going hand in hand with the concept of flexibility and what Slumbers mentioned in his presentation, coworking space owners need to implement the necessary technology which gives users access to day offices and short-term solutions. When it comes to hybrid and flexible workspaces, the solution is multiple short-term bookings rather than long-term ones. Also, creative rooms, such as Zoom conference rooms and study areas are important in providing users with a comfortable, unique and productive environment. Another tip to consider, according to Vasquez and Hoag, is "don't hold big offices hostage and lease desks." This will ensure that you are leasing as much of your space as possible and ensuring your business is thriving.
Finally, as office real estate continues to change and the future of work is shifting towards a flexible, hybrid structure, as a coworking space owner, it's important to ensure your space provides users with the hospitality, accountability, service and community to make them feel safe and able to efficiently do their work, despite the COVID-19 pandemic. With that being said, it's important to understand the Fundamentals of Flex to be able to adapt your space to the flexibility needed to thrive in a hybrid future of work.