The business world is being taken by storm by a movement that is revolutionizing the way office spaces are structured. The steady progression toward expanding Coworking office spaces is not only moving forward, but evolving in ways that no one could have predicted twenty or even ten years ago. More and more individuals work from home, but while home is where the heart is, it isn't always the environment most conducive to producing efficient work.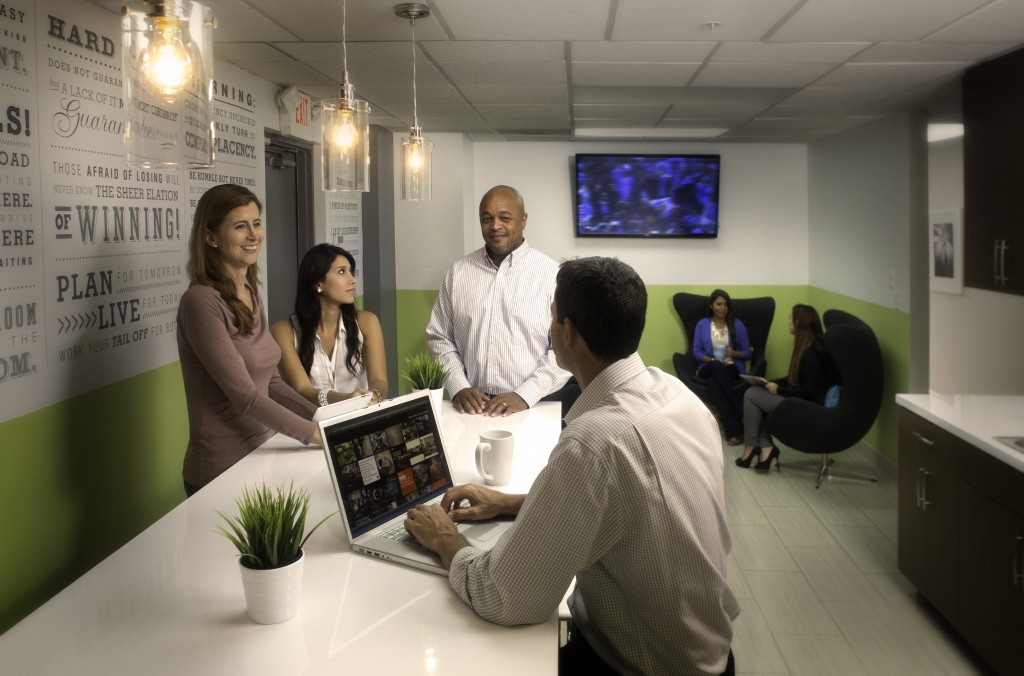 Thus began the rise of the Coworking space where individuals and small teams can rent office space to work in a communal environment surrounded by like-minded professionals. Studies have proven that professionals working in the flexible, open space of a Coworking environment tend to work more efficiently, create more cohesive workplace relationships, and even show increased creativity thanks to the open sharing of ideas.
IT is indispensable in any industry, and without it, businesses around the world would find themselves in a universe of trouble. Fortunately, IT Solutions for Coworking spaces provide a safe and reliable solution that you can count on. To put it quite simply, the business world relies on technology – technology that functions, and without it, there would undoubtedly be a catastrophic failure.
However, this positive new office structure comes with a problem that must be addressed before business success can even be considered. In a communal workspace such as a Coworking building, everything from software to hardware to even wireless Internet service is shared. It is this sharing that makes reliable high-speed wireless Internet such an important part of any Coworking community. If a community is meant to work together efficiently, they need to have quick access without the typical lag caused by multiple users.
The solution to every Wi-Fi problem to be found in a Coworking space can be solved with a service that provides lightning fast speeds, reliable up-time, and helpful support systems that make sure the hardware is well maintained.
Forget about services that cost an arm and a leg for measly bandwidth and offered no helpful, hands-on support. For wireless Internet to serve your Coworking space, look to Yardi Kube and our Wi-Fi options that supersede nearly all others on the market. We specialize in providing businesses with the necessary tools to succeed. WUNSystems is proud to offer high end Wi-Fi routers for Coworking space as well as scalable service packages to put your business on the path to success no matter how large or small you are. Our modular packages grant your business the ability to choose a plan that works for you at the moment, with the option to upgrade in time without fear of incurring additional installation costs. Your business is going to grow – plan for the future. We already are.
Making Self-Education Accessible
Through Wi-Fi, a world of possibilities is opened to employees and administrators alike. While a Coworking environment may support many individuals with unique needs, there is a great need for access to Internet services from open-source cloud-based software to cloud storage services to even educational resources. These days, the Internet makes businesses more profitable thanks to the cloud-based resources. Access to resources like YouTube and online encyclopedias allow employees to self-educate, discover, and grow their skills to produce better work. Better work means increased profits and business growth, not to mention a boost in employee morale.
Simplify Computer Backups
Wireless Internet service makes backing up a computer to either a local service or cloud-based storage simple and convenient. In the past, backing up a computer or simply backing up certain data files was both tedious and time-consuming. These days with lightning fast Wi-Fi, backing up data can happen anywhere at any time. Forget about having to be tethered to an Ethernet cable, Wi-Fi means you can store your data on a backup cloud-based drive without worrying about when you'll have time to actually do it. Thanks to the high-speed wireless internet services from Yardi Kube combined with the advancements in our own cloud-based storage options, backing up a machine is as simple as selecting the data you wish to save and scheduling a time. Backups no longer take up time or bog down your computer. Now with the cloud, backups done over Wi-Fi can be carried out as a background process while the computer is in use.
Instantaneous Access to The Digital World
In business, regardless of your geographical location, the environment is driven by fast-paced technology and decisive action. Don't find yourself left lagging in the past because of slow Internet service and high ping. The future is here, so why wait? With high-speed internet from Yardi Kube, the world is at your fingertips in an instant; access files on your computer remotely from a mobile device, back up data, and now sync files between devices or co-workers instantly.
Faster, Better, Stronger
Internet services catering to businesses should be top of the line, and we're ready to deliver on your schedule. We guarantee up-time and reliability with our internet as well as unlimited support and maintenance to keep the system running smoothly for you. Don't spend several hundred dollars on costly equipment, our Wi-Fi routers for Coworking buildings boast the latest hardware at competitive pricing. It's not just our pricing that blows away the competition, though. Our Internet speeds of up to 1Gbps are even higher than some competing providers. When it comes to Internet service for a Coworking office space, the fastest, most reliable option is always Yardi Kube.
Wireless Internet For The Business Of The Future
It's time to step into the future of your Coworking office space. Whether you house a small team or large number of employees, supporting their needs with high-speed wireless Internet service makes every aspect of a Coworking space smoothly, efficiently, and without the normal headaches. Wi-Fi routers for a Coworking environment from Yardi Kube put the technology of the future in your hands today.