The remote working trend is slowly shaping up to be the new normal among a growing number of businesses and professionals. Even sectors used to operating only from a traditional workplace are now opening up to the possibility. Architects and designers, doctors, therapists and even home-builders moved parts of their operations online, joining other professional groups who had already embraced the digital office even before COVID-19 hit.
The trend towards digital work has created new possibilities and, potentially, a larger pool of clients for co-working spaces. But aside from the benefits of operating from a co-working office, there are also a few challenges, including the newly limited space for all the items needed to run a business. This is one of those instances when self storage can take up the strain. The co-working and self storage sectors are well positioned to work hand-in-hand, boosting not only your members' business plans but also continued occupancy at your coworking space.
Here are a few things worth considering to optimize your members' combined experience of co-working and self storage.
How Can Self Storage Help Your Members?
Storage units are available in sizes from small closets to huge spaces. And they are often much better than a warehouse as the exact size can be rented to fit the items needed to be stored, ensuring money is not wasted. In addition, leases are usually monthly, so you can easily increase or decrease the number of units you rent as required, giving you great flexibility.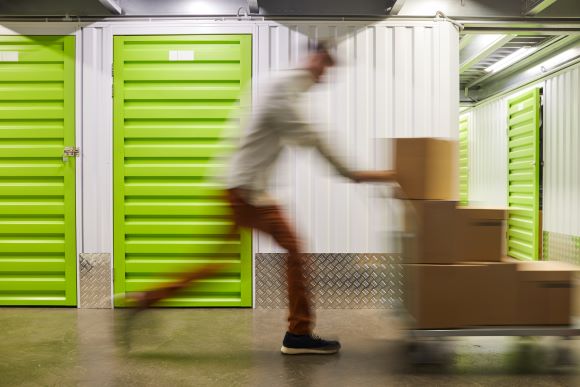 Self storage is not just suitable for businesses dealing with bulky materials. Paperwork and delicate items such as clothing, antiques and musical instruments can be kept in a climate-controlled unit that preserves them under ideal temperature and humidity conditions. —Any designers and retailers in your office are therefore assured of having a safe place for their precious items while they use your computers to rustle up sales.
Self storage is sometimes said to be a '3-mile business,' meaning that a facility finds its clients mostly within that radius. And as the self storage sector has grown a lot in recent years, the chances of someone finding a storage facility near both their home and their coworking space are good. The two sectors can therefore mesh together, providing business people with office and storage space close by, and also ensuring their homes don't have to accommodate both an office and a depot.
How Much Do Storage Units Hold and Cost?
Anybody considering self storage needs to decide what size storage unit they need. According to StorageCafé, a 10'x10' storage unit, could accommodate the furniture of a small office. It could also hold cabinets of paperwork or wardrobes of clothes — a climate-controlled unit being the best option for this. A 10'x15' storage unit gives you more depth, perhaps for the raw materials a business needs and also for its stock. With care, items can be stacked up to the units' ceilings, which are generally 8' high, maximizing the space.
Per square foot, the cost of renting self storage is way below the cost of residential space in all parts of the country, making it much more cost-effective than keeping things at home. The average national street rate for a non-climate-controlled 10'x10' unit is currently $128. The big coastal cities tend to have higher prices while places more toward the center of the country may offer lower rates.
The Future Should See Coworking and Self Storage Staying Together
As more industries now turn to remote working, large offices may not be needed so much as before. However, a coworking space with a business center can promote the use of self storage together with any startup resources and advisory services it already provides. Encouraging tenants to make self storage a part of their business plan can further help coworking spaces increase member retention.
Remote working will probably remain a highly effective way of doing business going forward, and coworking and self storage are both well placed to support this. These two industries operate effectively hand-in-hand to help people grow their businesses and make new starts — and also improve their lives, as they can look forward to having less cluttered homes.
---