Coworking has become very popular in the technological age as a way to effectively share space and resources. Many companies are now offering coworking space for extra income or as way to support local freelancers/small business owners. If you are current have a coworking space that you manage or are looking to start a coworking business, you will need a comprehensive software program that will help you stay on top of management.
We are offering the top coworking software on the market as a total business management solution. Read more about the features of our software, and how you can best use it to manage your space.
About Our Shared Space and Coworking Management Software
Our software has an incredible amount of features that have been specially designed for an easier coworking management experience. The most helpful features that we offer for management are White Label E-Commerce, the Client Portal, Billing, Marketplace, Door Control, WiFi/Network Control, Calendar, and a Mobile application.
Integrated White Label E-Commerce
White Label E-Commerce gives you ability to sell full time offices, day offices, or virtual offices on your own website. Our software is integrated with your site so that you can immediately acquire interested customers without any hoops to jump through. Clients will love being able to easily sign up for a space without any red tape, and all of the data is synced to the rest of the coworking management program.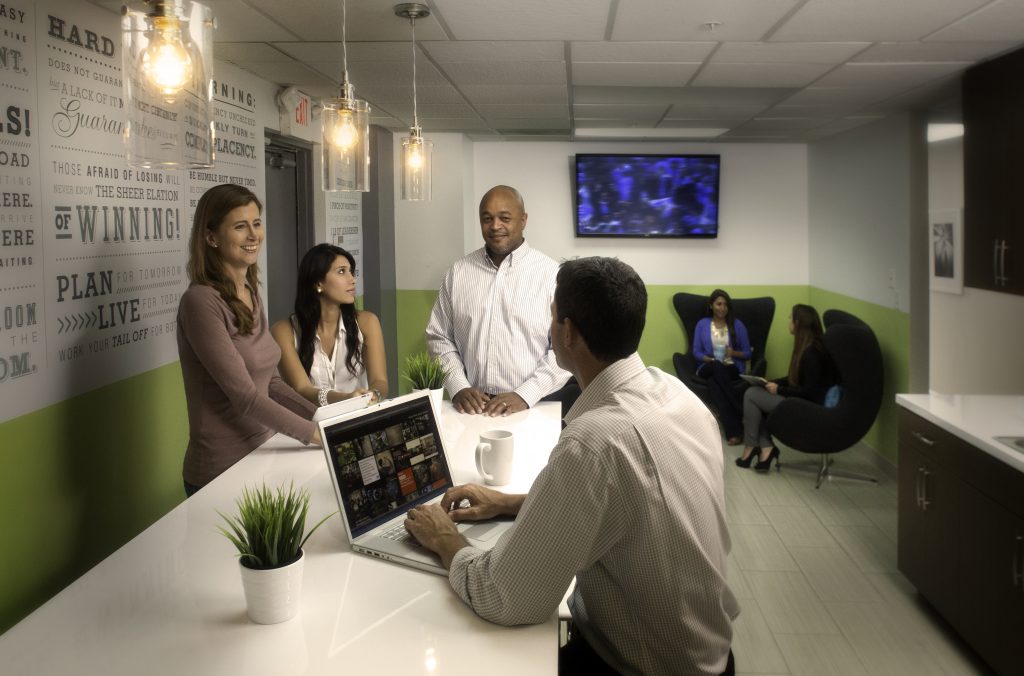 An Accessible Client Portal
Our client portal is where your clients will be able to receive coworking space information from you in a virtual layout. Policies, procedures and emergency plans can be uploaded onto the portal so that everyone is on the same page regarding usage of the space. Discounts and specials can be promoted to existing clients for additional revenue from repeat renters. You will be able to message specific clients directly, provide a calendar of available space, and stay connected with your clients on a more intimate level can ever before.
Easy Billing
Coworking spaces often have many people who rent the space each year. Traditional billing methods are too cumbersome for this many people. Our easy billing feature is specifically designed for renting out coworking space, with sections such as renewals, expansions and location changes. If you currently use Quickbooks for accounting, you're in luck: this billing feature syncs up with it perfectly.
Marketplace
Coworking clients tend to fluctuate throughout the year. Our marketplace is a lead generation section that can help you target different geographical areas with photos and descriptions of the space you are offering. This will help your business continuously have a steady stream of occupants in your space and income to count on. These leads are directed to your website, where your white label e-commerce will take them through the reservation process to have 100% of the funds deposited into your designated merchant account.
Secure Door Access/WiFi + Network Controls
Your coworking space door is all you have securing all of the valuable resources inside the room. However, if you have our secure door access, you can set a unified code to secure the door even further. You will also want to be conservative about your WiFi/Network access when there is no one booked. Once your renter has signed up for the space, WiFi will automatically turn on in the building for their scheduled time. You will also be able to view who is currently using the WiFi to prevent unauthorized access. Your company no longer has to worry about paying for internet access when nobody is using it.
Comprehensive Calendar View of Reservations
A calendar of all your reservations is always necessary to make sure space is not double booked. If you have multiple rooms you are renting out, you can create a calendar view that displays each one's availability for the day. This will help yourself and/or employees of your company stack on track with your lead generation and promotion of open space.
On the Go Mobile Application
Our coworking software can sync to your phone or tablet so you can respond to your client's questions and see who is currently on your WiFi network. If you are at a business meeting or away from the office, you will still have complete control of your coworking space. In terms of acquiring new clients, our mobile application helps you engage with a larger audience to bring in leads and more revenue.
Easy to Use Interface
Like all of our products, we designed our coworking software so that everyone can learn to use it. The interface is beautifully designed with attractive graphics and crisp features that make it easier to navigate. Our marketplace feature also presents helpful graphs, charts, and invaluable data that you can use to develop your business plan as your business grows. Making sure our coworking management software is easy to use has helped many of our clients in the past quickly be able to use it to their advantage.
Simplify Your Business with Yardi Kube' Coworking Management Software
All of the features mentioned above are essential to maximizing revenue and driving forward to gain new clients each year. There are other options that were not explored in this article, such as our CRM, Electronic Proposals, a Help Desk feature, Snail Mail integration, and Business Software API that all help you gain a steady stream of revenue from your coworking management business. Yardi Kube truly understands your management needs and has created the software to fulfill those needs all on one easy to use interface.
Simply put, we have designed the best coworking software for managing your space efficiently. Generating leads and seeking renters is just as important as making sure potential renters can easily find and secure a room directly from your website.