Are you in search of a cost-effective place from which to run your business in Miami? If so, look no further: Miami is home to an abundance of coworking spaces that offer not only a solid base for your entrepreneurial ventures, but also a sense of community — which is especially important if you're going solo or work in a small team.
Choosing a space that's in line with your business goals is a key element of success. Yet, it's easy to get lost in the myriad workspaces available — like in the case of Magic City, which is known for having a wide variety of shared office spaces. So, to assist you in your quest to find the ideal headquarters for your brand, we've put together a list of the top five coworking spaces in Miami.
Address: 100 SE 2nd St., Suite 2000, Miami, FL 33131
If you're interested in setting up camp in the very heart of the city, you can't go wrong with Premier Workspaces. Located in Miami Tower — a premier, Class A building and iconic edifice in the Miami-Dade skyline — this shared office space can be easily reached from any part of the city. Plus, your clients and business associates will surely be impressed by the sought-after address, which will increase your brand's prestige. Here, building amenities include high-speed internet connections; access to meeting rooms and a well-equipped kitchen; 38 furnished offices; and the opportunity to choose day or virtual offices. Moreover, the flexible terms for renting space is another highlight that will provide you with much-needed flexibility for the changing needs of your business.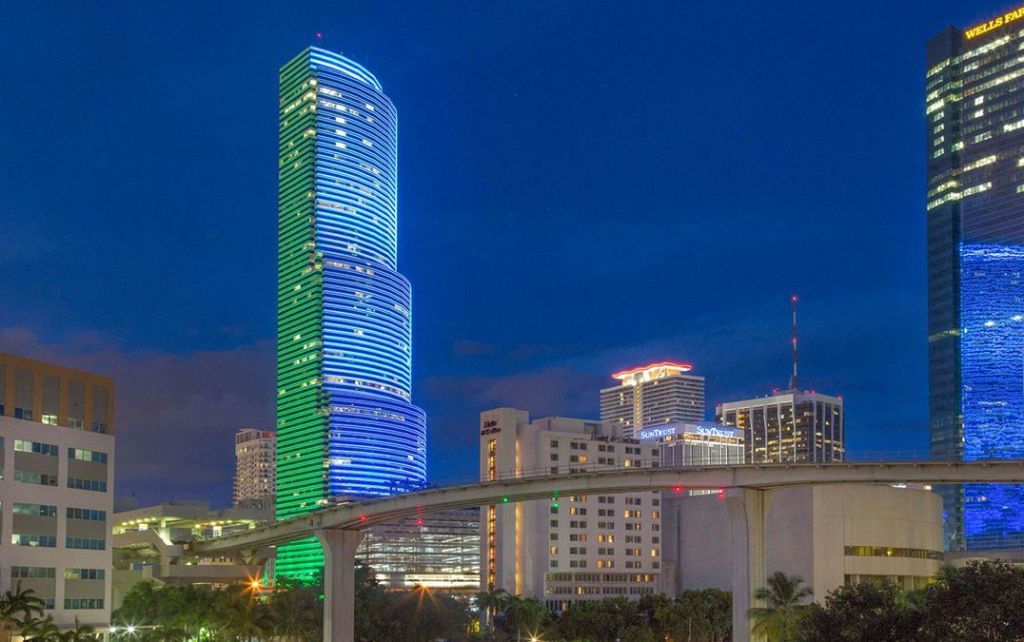 Address: 3350 Virginia St., Miami, FL 33133
Located in a vibrant area boasting year-round creative vibes, the Spaces office can be found at the very heart of Coconut Grove in Miami. Specifically, it's just a short walk from trendy eateries and the area's diverse set of shops and can also be easily reached via train. Here, Spaces offers four different types of membership options: office spaces, coworking memberships, dedicated desks, and virtual offices. Building amenities include super-fast Wi-Fi, breakout areas, meeting rooms, collaborative lounges, and ongoing networking events.
Address: 200 South Biscayne Blvd., Miami, FL 33131
WeWork offices are known for being sleek, stylish, and exceptionally welcoming, and it's no different at the Southeast Financial Center location. Those looking to base their business near the city's downtown core can choose between private offices, dedicated desks, or hot desks with monthly memberships. Meanwhile, on-site parking and electric vehicle charging stations are both available at this location to ease members' daily commute. And event spaces with sound systems and lighting controls can also be rented for in-person meetings. But, in addition to the basics, this WeWork coworking space also offers a few eye-catching extras — such as wellness rooms, mother's rooms, and recreational games for when you need to step away from your computer. The space is also dog-friendly — an added perk for animal-lovers.
Address: 2222 Ponce De Leon Blvd., Miami, FL 33134
Another fabulous WeWork shared office space, this one is situated in one of the oldest and most storied Miami neighborhoods. Designed to be in harmony with Coral Gables, the location features bright, open areas, complete with gorgeous plants that offer every office an airy feel to inspire you as you manage your daily to-do list. Boasting six floors of open spaces, private offices, and hot desks, it's easy to find the work arrangement here that best suits you and your business. What's more, this WeWork coworking hub also features an amazing terrace where various networking events take place on an ongoing basis. As a bonus, you'll be steps away from top restaurants, trendy bars and insightful art institutions.
Address: 429 Lenox Ave., Miami Beach, FL 33139
We just had to include the WeWork offices at 429 Lenox Ave. for their hard-to-beat location. Situated in South of Fifth and within close proximity of South Beach Marina, members can take full advantage of this office's fantastic surroundings. In fact, the entire building was designed to spark inspiration and help you achieve your top professional goals. For instance, the sleek common outdoor areas and lounges are set up to encourage collaboration between members. This particular coworking hub also offers all basic amenities that WeWork offices around the globe provide, in addition to a killer location where you're just steps from restaurants, bars, the marina and even the beach.
Set up shop in the coworking hub that best suits your needs. Whether it's a professional location, a vibrant community or state-of-the-art amenities you're after, these Miami coworking hubs have it all. Each has its advantages and it's up to you or your team to choose the one that matches your entrepreneurial aspirations.