Human Resources, or HR for short, is arguably one of the most important departments when it comes to sustaining a healthy workspace, especially in a Coworking environment. HR goes above and beyond simply hiring and firing employees. Their department oversees training, administration of staff, coaching, legal services, and almost anything else a company might need in order to be successful. HR plays an extremely important role in the day-to-day administration of a company and without their hard work, success is going to be more difficult to achieve, if it is achievable at all. It only makes sense that they use the best available Human Resources software for a Coworking environment.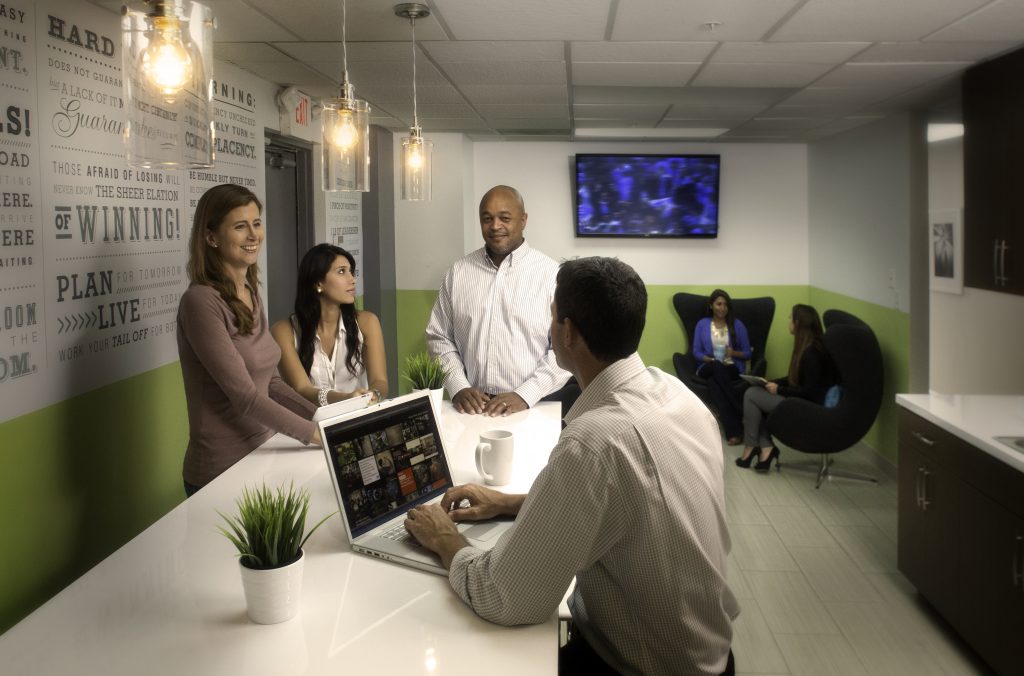 Yardi Kube is dedicated to providing businesses with the tools they need to succeed. Success isn't just a matter of talented staff or hard-working administrators, you need the right tools to get the job – just as with any job, you're going to need the right tools. If you are seeking the most innovative, user-friendly HR software on the market, it's time to look at what Yardi Kube has to offer. We provide customized software and packages to satisfy the growing needs of each and every member. Our award-winning software is deployed in more than 410 locations helping 40,000 people succeed every single day. Yardi Kube is dedicated to the success of your business and has the software to help bring it to the top.
HR in a Coworking Environment
A Coworking environment differs significantly from a typical office environment in that not all of the employees will be working for the same company. Here in the age of the internet, it has become common for employees to work from home, but as a result, workers begin to feel more isolated and as expected, crave human interaction. Coworking spaces have made it possible for freelancers to congregate in an office environment, which grants them the ability to work on their own schedule while being around like minded people. Additionally, it helps to clear up the distractions they might have experienced at home and boosts productivity. The rising popularity of these environments has necessitate the acquisition of human resources software for coworking environments.
People are naturally social, so it only makes sense that the Coworking environment has taken the business world by storm. Coworking environments promote teamwork in many ways. Through the building of teams your employees will forge relationships, communication skills, and improve their work ethic as a result of being surrounded by similarly passionate individuals. A Coworking space is one that promotes learning and growth.
Human Resources is often very hands-on in these environments to ensure everything runs smoothly. In a Coworking environment, people across all departments have stronger workspace relationships and that means HR can do a better job managing and mediating in the workspace when given the tools to do so.
Conflicts arise in any workspace environment, it's only natural, but mediating becomes more involved in a Coworking space where not everyone is employed by the same company. While individuals sharing a Coworking space often share values and ideals, from time to time disagreements may arise and that is where HR comes in with an especially hands-on mediating approach. When they aren't helping resolve issues, their job is to maintain the administrative goings-on of the space and oversee the training for new workers in the space.
Scaling
The needs of every business are as unique as the needs of an individual, and that is why we offer easy, versatile scaling options to our software and services. No matter what your needs may be at the start, those can change with the seasons. You shouldn't have to pay extra fees just to scale up or down to keep your business smoothly. With scalable contracts from Yardi Kube, you can match the services we supply with whatever demand you need to meet. It's simple, easy, and on-demand.
Support for HR
Yardi Kube provides free support for all of our software; from day one, our support team is there for you 24/7 at no extra cost. No matter what the problem is, we'll get it solved for you and get you back in business.
With HR often heading up workspace training, it is important for them to know the software they are using. We offer unlimited training to our members in two forms – on-site and online. Our on-site training features experienced professionals who are well versed in our software to teach you the ins and outs. With their help, you'll be an expert in WUN's Human Resources software for Coworking spaces. If you prefer, or you need assistance at a later time, we also offer an online informational database that should answer all of your questions. If you find that another on-site training seminar is necessary, don't worry about the expense. We'll send a training professional out at no extra charge for as long as you need them. When we say unlimited training, we mean it; we make sure you have the expertise you need to use our software to its highest potential from start to finish.
Back To Business
Human Resource departments have their work cut out for them in a Coworking environment. The atmosphere that these environments foster requires a much more hands-on approach to management. Yardi Kube has created software and a member support system designed to make the job a little easier on HR. When it comes to managing a business, you deserve the best software to get the job done no matter how many employees you have.