The past couple of years have seen a surge in the number of people mixing work with play. Working remotely is here to stay, which allows many to try the digital nomad lifestyle. It can be a truly rewarding experience, getting to travel and enjoy new places while also being able to further your career.
Taking the plunge toward the lifestyle, on the other hand, can cause a few logistical headaches. Some people decide to give up on their apartments for a few months or even years. Others who are homeowners might decide to rent out their homes while they travel around the country.
Regardless of the situation, a common necessity arises: the need for storage space. It might be furniture, a vehicle, or other items — digital nomads often must find a safe place for their stuff, whether in their city of origin or in the locations they're traveling to. And this need can be easily solved by renting a self storage unit.
Self storage is a widely available and affordable service that can be a very valuable help for digital nomads on the move. If you're a digital nomad yourself, or you plan to give this lifestyle a try, here's how you can use a self storage unit to your advantage:
1. To store the furniture and other belongings from your apartment
If you're a renter on your way to becoming a digital nomad, and you plan on sticking to this new lifestyle medium to long term (several months and beyond), it might not be worth it, financially, to keep renting your current apartment. Packing up all your belongings and vacating your apartment is no fun, but it's going to save you a lot of money in the long run. Obviously, you can't dump all your belongings on a friend or family member. Not only is that inconvenient for them, but your things will probably end up in a garage or a basement somewhere — not exactly the best environment for long-term storage.
Instead of inconveniencing others and risking damages to your belongings, you can rent a self storage unit. A 10'x15' self storage unit is large enough to comfortably hold all the furniture and other stuff from an average two-bedroom apartment. And since storage units come with month-to-month leases, it's easy for you to end the lease and take your belongings out of storage when you need them — or, on the contrary, to have them safely stored for as long as your adventures keep you away.
2. To protect important items, in case you plan to rent out your home
Homeowners who decide to hit the road as digital nomads for a while have different options regarding their houses. You could simply close the door and ask someone to drop by from time to time to make sure everything is alright. Or you could decide to make some extra cash while working away from home and rent out your place. However, when renting your home, you need to first get the space free of personal belongings. You might also want to protect some of your most valuable possessions.
Your personal stuff, and things like artwork, expensive furniture and rugs, electronics, collectibles and such are much better kept in a storage unit. A 10'x10' storage unit is just the right size to hold those items while you're traveling. The unit is about as big as half of a standard garage, so you can fit plenty in it: several pieces of furniture, appliances, electronics and boxes with various other stuff.
If the items you are planning to store are delicate (antiques, paintings or old books, for example), you could rent a climate-controlled self storage unit. These units provide just the right environment, in terms of temperature and humidity, for the long-term storage of even the most fragile belongings.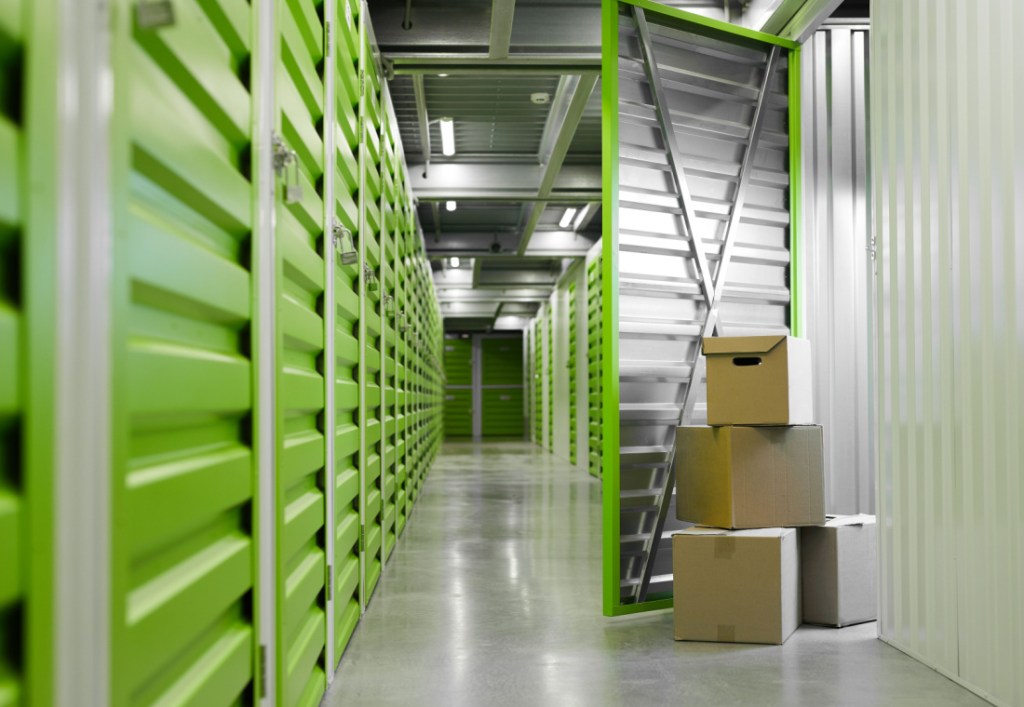 3. To keep your car safe
If your travels take you far from home, or even abroad, and you fly to your destination, you'll obviously need a place to keep your car while you're away. A car storage service at a self storage facility located conveniently for you (let's say, close to your home airport) is probably your best option.
You can opt for different types of car storage, from basic outdoor spaces similar to the ones in a parking lot to covered spaces or indoor units (same as a garage). Outdoor car storage spaces, covered or uncovered, are the more economical choice. They're recommended if you are leaving your car for only a couple of months or so, and if there's generally mild weather during those months. However, when storing your car long term, it's better to get an indoor unit, which will protect your car from the elements. The smallest unit size that allows you to park a car inside is the 10'x15' storage unit — however, we're talking about compact cars, such as a Toyota Corolla, for example. Larger cars usually require a 10'x20' storage unit. Not only will your car will fit comfortably, but you'll also have some space left for other items you might want to put in storage.
4. To enjoy an uncluttered space in your city of destination
You made it to your destination, the new city where you want to spend the next few months working and enjoying yourself. However, if you rented a small apartment, as most people who stay in a certain place short term do, you might start to feel a little bit cramped. That's even truer for people who travel to a certain destination to indulge in their favorite pastime, be it golfing, camping, skiing, water sports or something else. Juggling family, working from home, and pursuing passions that involve some sort of recreational gear or sports equipment can be challenging. A good solution would be to rent a small self storage unit located close to your apartment, where you can keep hobby-related items, sports equipment, beach gear and so on. Most self storage facilities have generous opening hours, with many of them even open for customers 24/7, so picking up or dropping off things won't be an issue. This way, you get to have enough space in your apartment to work and live comfortably.
5. To store your RV while not in use
RV-ing is also growing in popularity due to people being able to work remotely. It can be very advantageous to have your own space and your own stuff with you while traveling across the country. It certainly makes working from home easier than having to adjust to a new place all the time. However, between travels, the RV needs to be parked somewhere. Parking it on the street or even in your driveway (assuming that you have the space) is not permitted in many, if not most, cities and towns across the country. Fortunately, RV storage services allow you to safely keep your vehicle, either indoors or outdoors, until you're ready for your next trip.
The digital nomad life can be a rewarding, unique experience for you and your family. Just make sure you deal with the logistics in a smart way so that everything goes smoothly in your travels and back home.
Yardi Kube is an all-in-one coworking space management platform that helps businesses manage all aspects of flexible workspaces, from meeting room and space booking to lead generation, payment processing and more. For more information, click below to schedule a demo.