We are proud to have hosted many of our long time industry friends at last week's Yardi Coworking Summit, which consisted of four parts.
After our own Dale Hersowitz introduced himself to the attendees and kicked things off, VP and General Manager Richard Malpica was first to the mic. He presented about his role within the company, and the vast range of locations and services that Yardi empowers. Malpica explained the focus of Yardi now and in the future, which will continue to expand into the world of Artificial Intelligence, Internet of Things, Smart and zero-energy buildings, among many others.
Yardi is already global, serving over 80 countries, with over 6,000 employees. But it is still growing, as evidenced by last week's announcement of the acquisition of Phoenix Broadband, well known for their Medusa service platform.
Next, CEO Anant Yardi took to the stage to share the roadmap for the future of Yardi and a more detailed analysis on how Yardi functions and what its benefits are for a large scope of clients. The Yardi Kube platform ties in perfectly with Commercial Cafe, Yardi's marketing suite, as well as accounting suite, Voyager.
With the Coworking industry continuing its rapid growth, Yardi's presence in shared space was one of the few things that was lacking in their portfolio. Not anymore.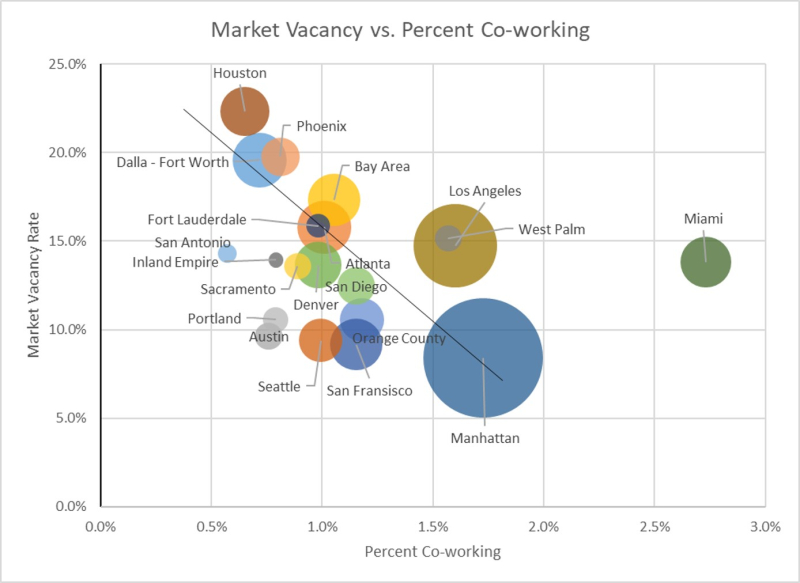 Anant touched upon some details from the recent Yardi Matrix report on the state of Coworking, such as the trend of market vacancy directly correlated to percentage of Coworking space available.
In the next part of the conference, Victor Vasev, Senior Director of Coworking, presented a preview of the new Yardi Kube platform, which is set to debut in Q4 2018. Yardi Kube is the next generation of the Yardi Kube platform, with new features and tools to help simplify and grow the success of your shared space, included an integrated accounting suite, the most talked about enhancement to the existing platform.
Roundtable Discussion
Finally, we put together a panel of industry experts to discuss various pressing topics in Coworking as well as commercial real estate. Our panel was as follows: Laurent Dhollande, CEO, Pacific Workspaces and CloudVO; Jerome Fried, Managing Director, Savills Studley ; Bart Leslie, Partner, Canmore LLC ; and Ed Carrol, CEO, NYC Office Suites.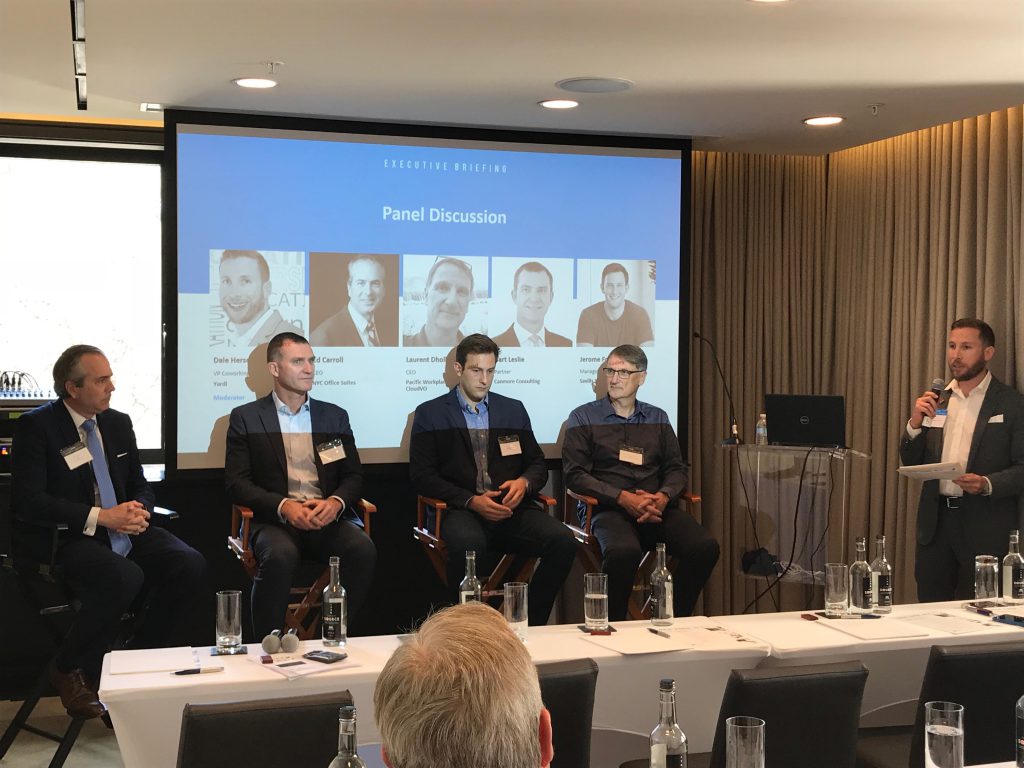 We talked about whether the current market conditions, and a potential saturation of the market would drive operators to look at secondary or tertiary markets instead of continuing to flood areas like NYC. Ed explained that he believes there is still room for growth as even the most crowded markets have demand for desk space and real estate available to be leased for Coworking.
Jerome has personal experience as a broker based out of Southern California, in dealing with massive clients such as Industrious. He of course sees the difference in the market in Los Angeles neighborhoods and in NYC areas.
However, as he mentioned in our recent guest blog regarding CRE mistakes in Coworking, it would be foolish to ignore the similarities as well. Downtown Santa Monica has two WeWork locations within 0.4 miles of eachother, a saturation similar to NYC. Yet they are both at capacity, with waitlists.
The panelists also discussed the fragmentation of the market. One of the key stats, presented by Laurent, is that even though WeWork, Regus, and ServCorp are the 3 biggest players in Coworking, they only combine for 22% of the market share. He expects more consolidation, and more national and international powers to jump into the market locally.
It's possible that within the next 6-10 years the shared space industry could multiply its percentage of office space in the US by TEN! Although there have been different estimates on this number, the general consensus is that today's 1-2% share, could become 15-25% in that time frame!
Corporations involved in the industry is of course a trend that we all see continuing to increase. The panelists discussed how this trend will affect the big players moving forward. They need to increase their flexibility, because a large portion of their member base may not be individual desk rentals, it may be companies like Verizon, IBM, Enterprise, and others, who are looking to establish large satellite offices, and need entire floors (or multiple floors).
These corporations also need support for a distributed workforce. If corporations have members in Coworking spaces throughout the map, they will need office spaces, professional meeting rooms, and locations that cover the wide scope of their clients. The Coworking industry seems to be on its way to adapting those corporate needs, or at least understanding that it needs to evolve to continue its rapid growth.
Overall, not only was the Yardi Coworking Summit informative and one of a kind, it was refreshing to hear analysis from four panelists who each have a core understanding of the market from different perspectives.
We are extremely excited about the new Yardi Kube platform (if you couldn't tell), and as Anant Yardi himself said, expect a similar summit again in several months time.
A special thank you to The Edition Hotel in Manhattan for hosting us and providing such a professional and welcoming setup.
We hope you'll join us for the next one!