We're just getting back from an amazing trip in London where we had attended the Business Centre Association's 2017 Conference in London. There was little jetlag for us coming across the pond as we were heavily engaged in what's going on within the Flexible Workspace industry. Here's a little fun fact for yankees reading at home, they like to use the term "serviced offices". Weird, right? We would like to thank the great people of the BCA for their hospitality and hosting such an incredible event. It was truly a ground breaking experience, here are the top three takeaways from the event.
New Platforms for Profitability
A few presentations featured a fresh and interesting perspective in terms of the Space as a Service industry. This new approach focused on looking less into space and considering the workspace technology as a means of maximizing profit. This included looking into applications, management platforms, as well as making the infrastructure streamlined to your operation. Amit Pau, Managing Director of Ariadne Capital gave an amazing presentation on finding these new opportunities. Global Workspace technology isn't just about connecting the Wi-Fi, it's about having a system in place to ensure your growth.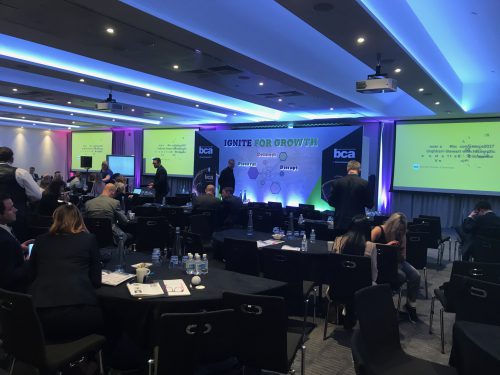 Workspaces Becoming More Inclusive
With the heels of the Brexit vote, much of the presentations centered around easing uncertainties and finding ways around new challenges. One of which was bringing the people of the workspace closer together by focusing on community building and providing new avenues for people to connect and cross cultural bridges. New flexible workspaces and serviced offices will need to be optimized to meet this challenge.
Disrupting The Workspace Per Person Model
With new changes in the industry, it's time to revisit what ideas can best bring revenue, productivity, and community. There was a great deal of discussion regarding what considerations to make. In the wake of these changes, is there a new formula for success? Ideas for how to maximize a space based on having an open or closed plan, the amount of conference rooms available, as well as which adaptations to consider toward differing cultures and work styles. With an expanding industry coming full-circle, square footage will never be the same. Oliver Marlow, Co-Founder of Studio TILT, made a masterful presentation on relationship between space and connectivity and how to maximize collaboration.
The event carried on with more to be discussed regarding technology trends in the flexible workspace industry, what works and doesn't work when operating as a workspace-per-person model, as well as various breakout sessions for everyone to share knowledge and ideas for improving flexible spaces.
We had a blast in London and loved spending time with our clients, prospects, and industry connections east of the Atlantic. The BCA is a not-for-profit trade association representing the needs of operators, partners, and customers of business centers, Coworking spaces, executive suites, serviced offices and other forms of flexible workspaces. You can learn more about the Business Centre Association by visiting their official site: https://www.bca.uk.com
To learn more about WUN and how our technology connects the world of flexible workspaces, Coworking centers, and serviced offices, click the button below to schedule a demo.