So after Sunday's Camp GCUC, we can say the "real" GCUC 2018 started Monday. Some will call this truly Day 1 of the event, but we'll refer to Monday and Tuesday as days 2 and 3 to avoid confusion with Camp GCUC day. Anyhow, here's a GCUC recap (see what I did there?) of all that took place at Convene in NYC last week!
Monday began with Liz Elam, Founder of GCUC, taking the mic to talk about the importance of wellness. As a society, physical and mental wellness is a prominent topic due to struggles we endure in general. But through Coworking, we can play a significant role in improving this hardship.
She mentioned creating spaces to cater to our human elements. Be kind and receptive. Smile and look people in the eye. Create positivity in the community you've built. Coworking has always been front and center in improving our work lives, but it must be just as prominent in our health.
Deskmag Stats
I'll admit, I'm a stats nerd. So listening to Carsten Foertsch, Founder of Deskmag, present all the detailed statistics on the state of Coworking was fascinating. Below are some of the highlights.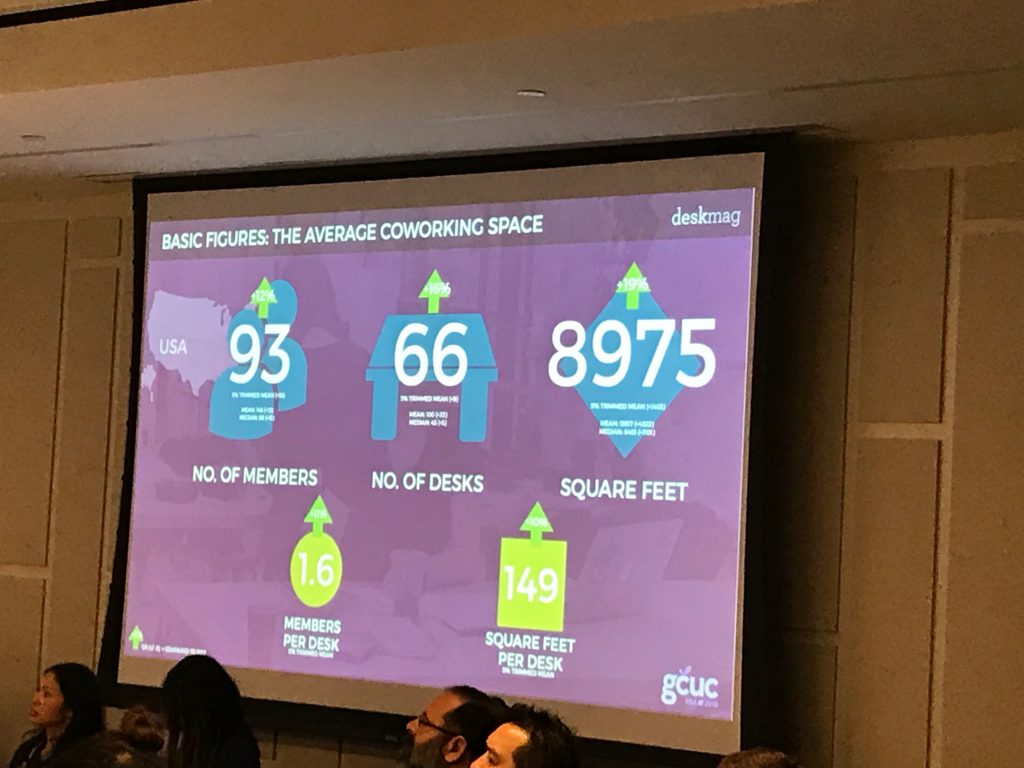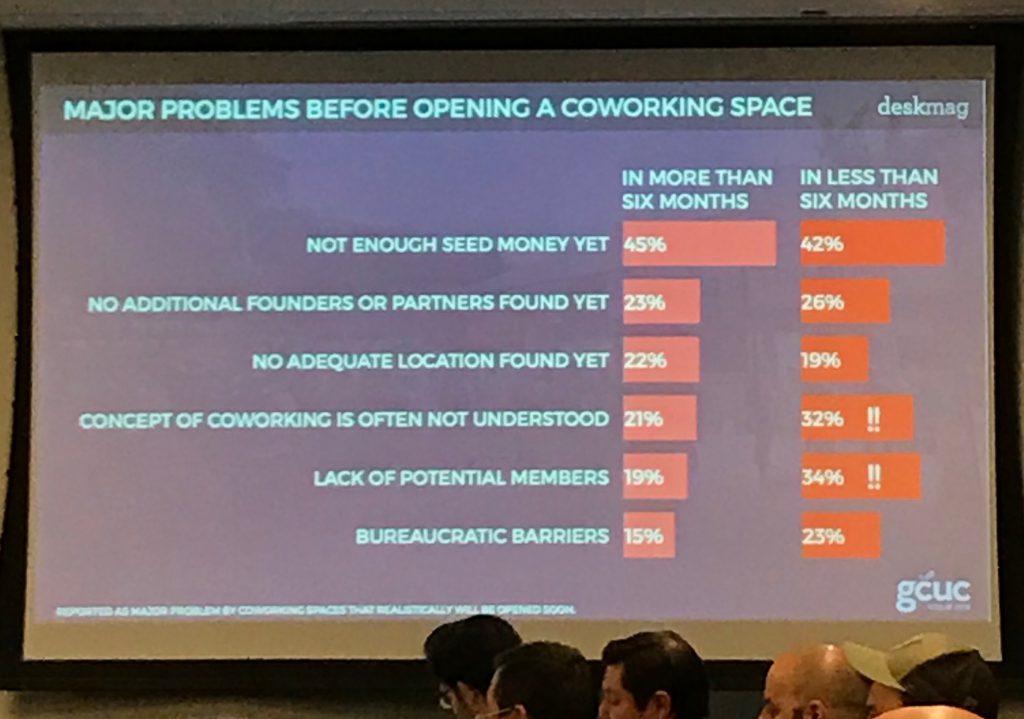 A few things stand out from these slides. First and foremost, the increases in raw numbers of members, desks, and size per each Coworking space is a clear sign to the growth in the industry. Secondly, with that continued growth, its clear many people want to open a space of their own.
The problems they face are intriguing because yes, raising the capital necessary can be tough, but Carsten spotlighted the amount who believe there is a lack of potential members or a misunderstood concept of Coworking. Those numbers in the 32-34% range seem too high for where our industry is today.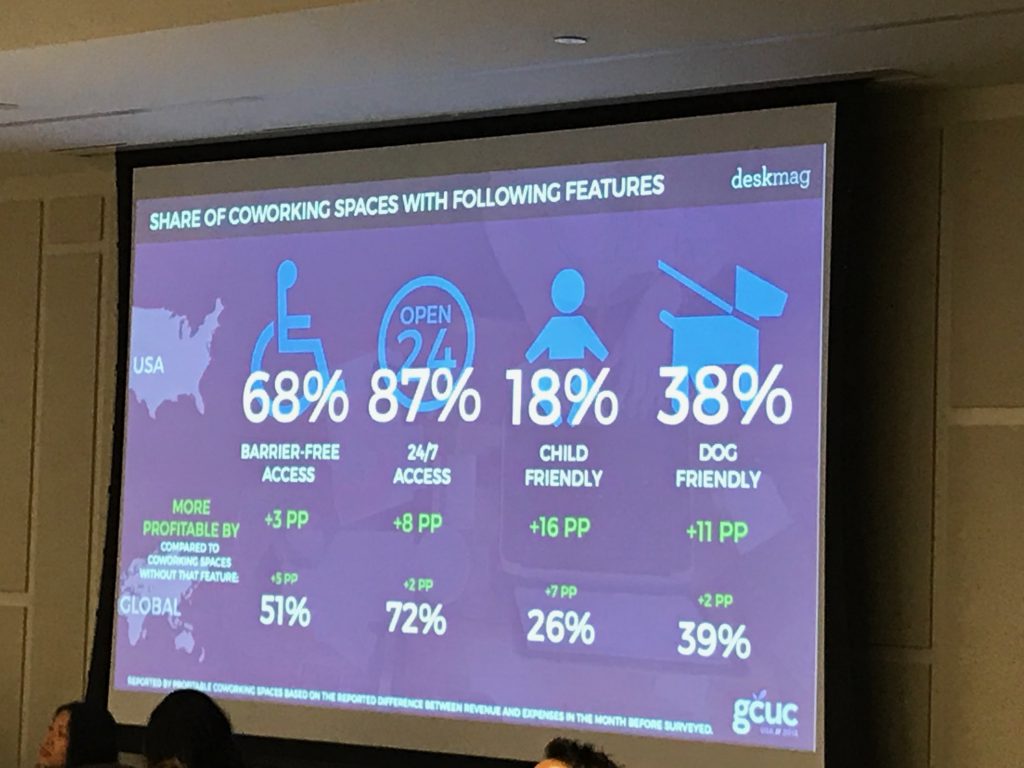 This was another very interesting slide Carsten presented. Amenities such as barrier free access, 24/7 access, and child/pet friendly are becoming more common in spaces in the US. Those amenities make a space anywhere from 3 to 11 percentage points more profitable than those without. And as a whole, American spaces are way more wheelchair and 24/7 accessible than the global average.
Design
Joyce Bromberg moderated a panel about designing for humans, not just for profit. The panel spoke about several interesting topics such as designing for social, cognitive and physical health, similar to what Liz started by mentioning.
James K. Donaghy, Chairman of Structured Tone Organization, stressed the importance of glass, open space, and natural light in the workspace for health purposes. Lauren Whitney, VP at Corgan, explained how once your space is up and running, you can't have a 'set it and forget it' mentality. Get to know your members. Consistently talk to them, see how they feel, what they value, so you can change design to fit those needs.
Joyce asked the panelists to define health. Ross Guttler, VP of Delos, said his definition would include what the light, air, temperature and surroundings are doing to his body. Vince Pan, who conducted a breakout session on day 1, said he thinks of the emotional and cognitive importance of health first and foremost. Creating comfort = health.
Coworking in the Future City
This to me was of the more entertaining discussions, basically because we picture the future as being so far away when in reality the panelists made it clear the future really starts now.
Neal Gorenflo, Co-founder and Chief Editor of Shareable, says our vision of the city of the future is often a corporate vision. We cannot have a cookie cutter mentality. Be more deliberate about crafting your own story on the future of Coworking because everyone in the room has a say in it.
Jayson White, Executive Director of Adaptive Office Resources, stressed how population increases will shape the future in our industry. Think about the likelihood that in 35 years there may be more than 100M more people in this country than there are now, but only 1% is forecasted to be in NYC. For as huge a market as NYC is for Coworking, its undeniable that other cities will boom as well.
He mentioned the possibility of facial recognition as the future of entry into a shared space, and clearly the crowd was quite uneasy about it. But its not just for sci-fi movies. It's really coming.
Another interesting thought he shared was how startup activity has declined in recent years. But its not that its not growing, its just growing slower than at the absurd pace it had the previous handful of years.
Ashley Proctor, Executive Producer of GCUC Canada, talked about starting a community space in the poorest neighborhood in Vancouver, where the opioid crisis, homelessness and illegal drug use is extremely high. She's opening a 115K sq ft space which is going to be the largest in Canada. And she picked that location to help empower that community that desperately needs it.
Battling the Big Boys- Without Raising Money
On day 3, the breakout sessions happened more simultaneously and in smaller groups, as the attendees got to pick which topics they wanted to hear most about. Gregory Kittleson, Co-Founder of KMC Solutions, told us that as many as 47% of spaces are not profitable globally. But operators are making a mistake in limiting themselves to being just a Coworking space with individual desk rentals.
You have to capitalize on market shifts and cater to companies, and realize that you're in the hospitality business and the real estate business, as much as you're in Coworking. People are searching for all these terms below and you need to be able to address all or most of these in order to cast the widest net possible to attract all types of members.
You should also consider that revenue streams can be generated via corporate services, HR & Payroll, Recruitment, Online Marketing, Design and development, so branch out! Don't just be 'a Coworking space'.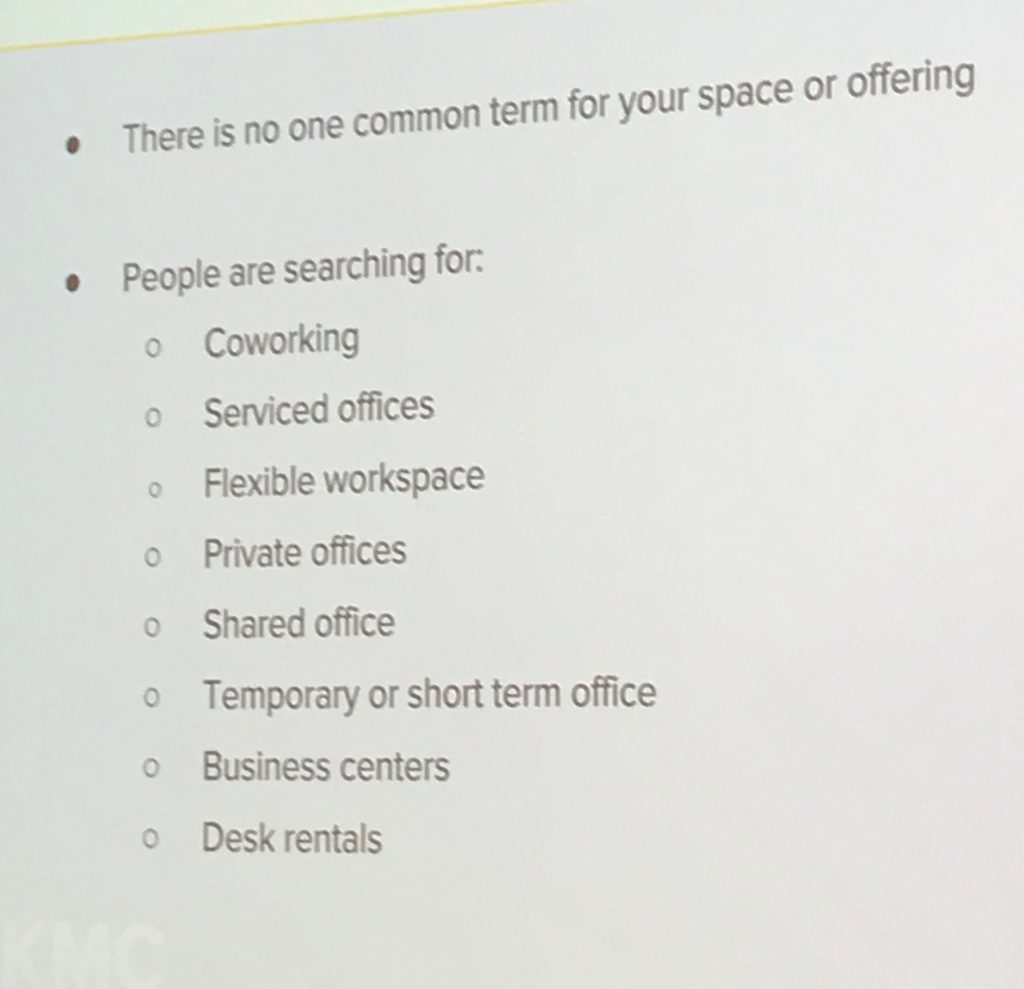 Marketing
Not that they intended these breakout sessions to segue perfectly, but in this case it did. We talked about these revenue streams and where to branch out, and then the marketing session gave valuable insight as to how to reach as wide an audience as possible.
This was a unique session as multiple operators from throughout the country in the crowd just spoke up about what works best for them. One mentioned email drip campaigns as the most successful avenue to promote his space.
Basically his order for the emails promoting tours of the new location was an info-heavy one, with what to expect, where to park, wifi password, etc. Then a schedule of events email for the tour attendees. And finally a follow up thank you email.
If they clicked on that thank you email, the prospective member would receive a free day at the space. Those who didn't click received a follow up email in a couple weeks, offering a free month if they joined. Two thirds of his 'free month' members stayed long term!
Hub 101 in California partnered with Starbucks for a campaign to say Starbucks has your coffee, we've got your space. It was ideal for both parties as Starbucks would create a consistent flow in and out, preventing overcrowding, and refer people to Hub 101 nearby.
Many of the operators in the crowd mentioned doing 1 free guest pass per member each month. Hub 101 actually does 3 of them.
Hygga in Charlotte said SEO is their biggest marketing focus. By encouraging Google and Yelp reviews among their best members, they've organically become the top result in any google search for Coworking in Charlotte. If your space is rated 5 stars, it will skyrocket on SEO. Hygga actually passed WeWork in members in Charlotte, which as a self start campaign is obviously extremely impressive.
They also had a member right in their own space who specializes in email marketing. For a simple exchange of either discounts at the space or financial compensation, you can often find a member who can dedicate just a couple of hours a week to maximizing your space's social media and email outreach.
Conclusions
Of course, there were more breakout sessions on day 3, and there were more panels on day 2. These highlights covered what we felt were the biggest talking points as well as the most relevant for the future of Coworking.
GCUC is huge. They're already hosted all over the world, from Australia, to the UK, China, Dubai, of course Canada and the US. And now, they announced coming to Mexico as well for the first ever GCUC Latin America. Stay tuned for dates on that one. As GCUC continues to expand, we'll be there with them and definitely encourage you to join as well.