Administrative staff members and gatekeeping receptionists are the backbone of the company. They may not be the primary decision makers of the company, but their contributions are essential for keeping the office running smoothly. It is noticeable when they are missing, and difficult to fill their positions once they have left. Oftentimes, administrative staff feel overwhelmed by the number of calls that come in each day while also having to complete other tasks. In order to make this portion of their job easier, Yardi Kube has developed specialized business telephone solutions Sunny Isles.
How Can Receptionists and Administrative Staff Benefit from WUN Voice?
WUN Voice is the name of our top of the line, modular business telephone services Sunny Isles. Our business telephone systems go beyond just our physical handset – it harnesses the power of the internet to provide an office communication experience no matter where you go. Here are some of the features that make administrative staff and receptionist jobs much easier.
Softphone Options
Our WUN Voice softphone option allows you to use our application to connect laptops with all operating systems, cellular phones, and tablets for regular phone calls, video chat conferences, and interoffice chat boxes. This feature is an essential supplement for in-office handsets, and helps receptionists and administrative staff stay connected with employees who leave the office.
Advanced Call Accounting
For in or out of house accountants, our Advanced Call Accounting feature is a powerful, data gathering tool for analysis of your top producing offices and departments. We understand that accounting for phone usage is a huge part of business expenses. Our clients love the ability to bill individuals if they are using more minutes than they are due. Luckily for your accountants, the Advanced Call Accounting program is compatible with all major accounting software packages. Viewing your call log is another valuable tool for accountants to give recommendations on which department needs more staff members due to call volume. This can help to anticipate your overall company growth and increase customer satisfaction.
Reception Control
Reception control is the central web-based hub for all receptionists to control incoming or outgoing calls. This application can be pulled up on any computer with all different operating systems. Your receptionist will have the ability to manage inbound calls, save numbers, direct calls to the appropriate office or department, put calls on hold, and write notes on employees. All of this is done through an easy to use layout that simplifies the process of communication control. The notes that can be written on employees can range anywhere between scheduling conflicts, vacation times, or specific requests to accept expected calls or deny others. Your receptionist has the ability to work outside of the office as well, using a work laptop set up at home.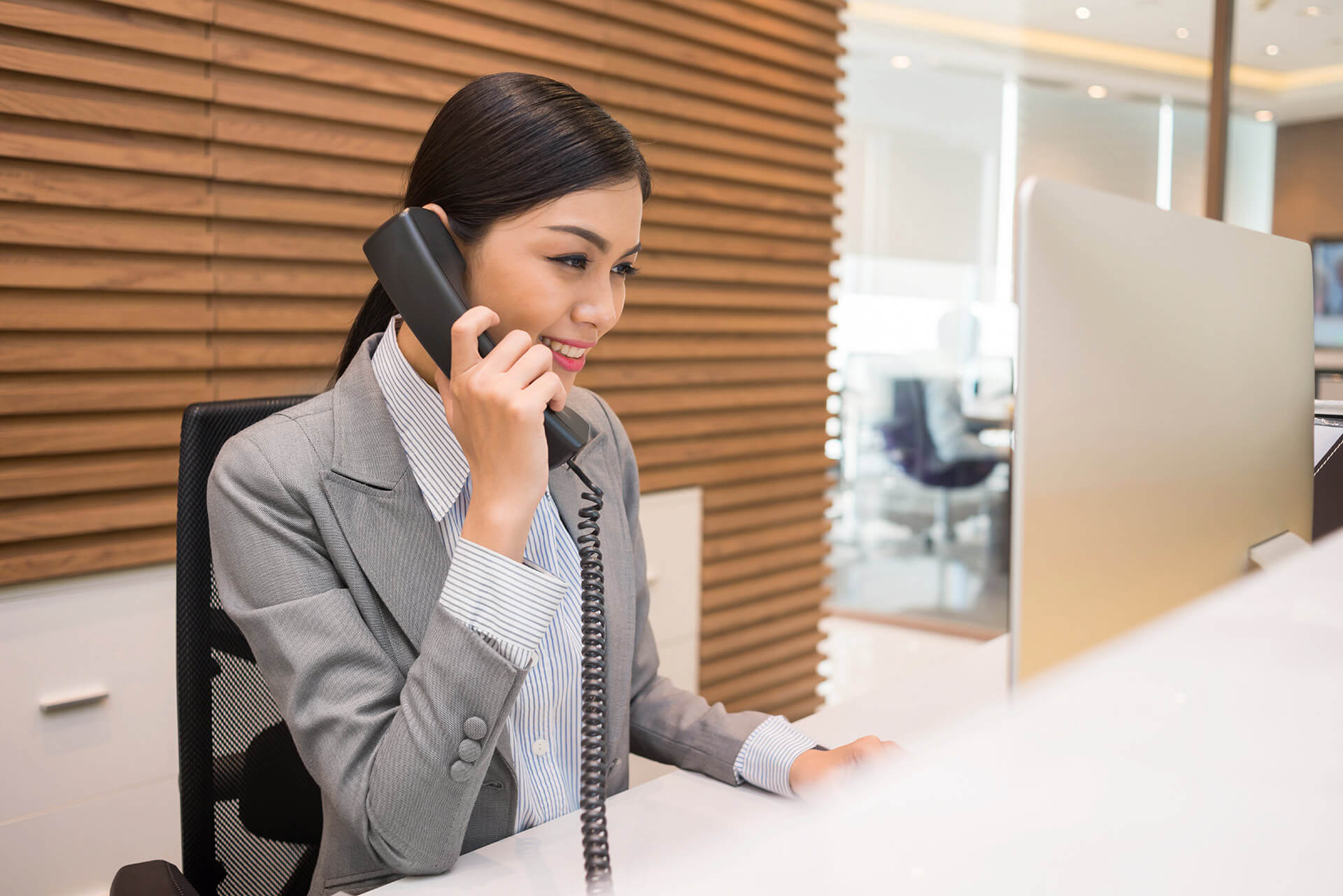 Options for Remote Employees
Having a remote receptionist for your office is completely possible with our business telephone systems Sunny Isles. Our products are designed to work together and be built in a modular manner, so that everyone has everything that they need, but nothing that will get in the way of what they need to do on a daily basis. By streamlining and tailoring the communication process, we have managed to create a system that is customized for each person yet unified for all members of the company. Remote employees are becoming more and more popular, in order to reach the brightest talent that may be living on the other side of the United States.
Being able to work remotely is not just for remote employees, either. If any staff member needs to work from home or on a business trip, WUN Voice's programs make this easy. Using our web-based Advanced Call Accounting, Reception Control and softphone option, employees have the same access to our technology at their fingertips.
Technical Support for Receptionists and Administrative Staff
Administrative staff within your office has the opportunity to reach a business telephone systems specialist Sunny Isles at any time throughout the day. Our specialists are trained to analyze the specific concerns of our clients and to find a solution as quickly as possible. Your business' account and service is monitored by one of our designated Account Managers on a daily basis, so your staff does not have to worry about doing this themselves. If the problem cannot go through the troubleshooting process online, then a dedicated, Unlimited Onsite Support technician will come to your office to fix it right away. Your administrative staff and receptionists will not have to do any of the servicing themselves, as it is our commitment to your business to provide uninterrupted services throughout the day. If your staff has any general questions on how they can better utilize our systems, then our Unlimited Onsite Training and Support will happily provide answers to improve productivity.
WUN Voice Education for New Administrative Staff
In addition to providing technical support, the Unlimited On-Site Training also provides in-office teachers, instructional webinars, and a knowledge base that is accessible at any time. Our team teaches new employees how to use all features of the system and how to best use them to their advantage. It can take a while for new receptionists to get used to an advanced business telephone systems, but it is important for them to learn it as quickly as possible since their primary function is telephone interactions. Various modes of education work for all learning styles, and the program is completely free of cost.
WUN Voice Creates Total Office Efficiency
By helping your company's administrative staff become more organized, our business telephone systems company Sunny Isles also indirectly helping your entire company run more efficiently. Our business telephone systems are extremely helpful for whole offices or certain departments, such as customer service or call centers, which ends up helping out the company overall by cause and effect. Any way that we are able to provide great service to your company, the more successful that makes us.