The Valley of the Sun is a fertile ground for entrepreneurial culture. As such, coworking spaces are becoming a popular option for many professionals and a solid basis for startups looking to put down their roots in a city full of opportunities. From modern, culture-driven, women-focused, niche-oriented and private office solutions, spaces in Phoenix have it all. To help narrow down the list for you, here are the top coworking spaces in Phoenix.
Google Maps Rating: 5 Stars
What members love about it: Industrious is a professional, friendly and modern design work environment.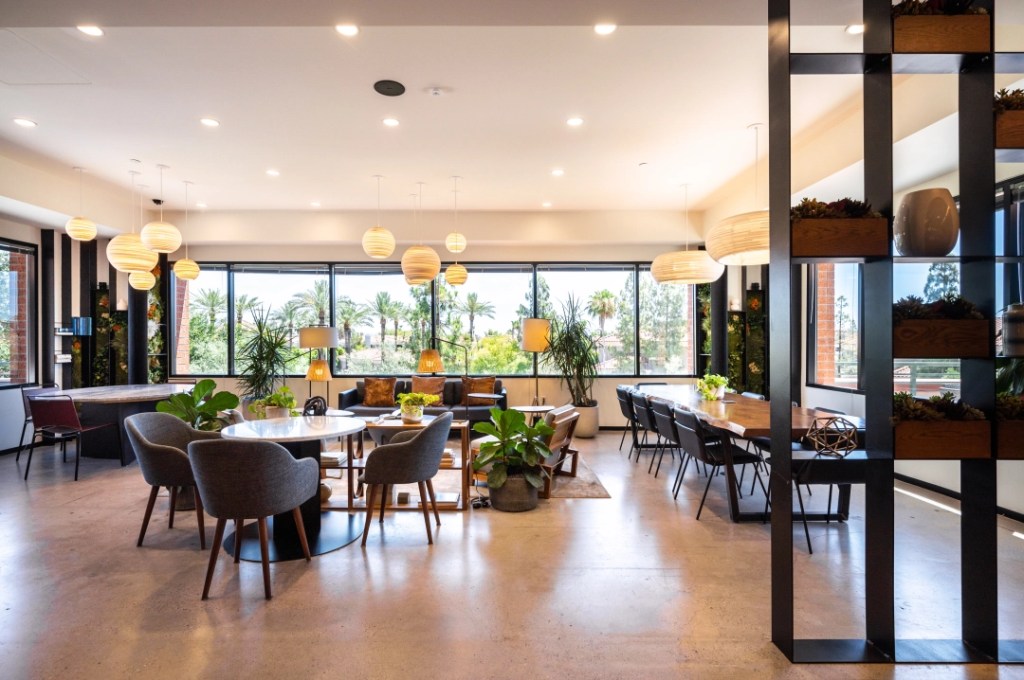 Located in the heart of Old Town Scottsdale, Industrious offers the perfect, productive work environment for all users and teams of all sizes. Featuring sun-drenched spaces, a private outdoor terrace, sleek interiors, daily breakfast and coffee and other best-in-class services and amenities, it is the ideal place to get your work done and meet up with clients. Furthermore, its central location makes it an ideal coworking space for an authentic experience of urban living. For more information about pricing and memberships, check out their website.
Google Maps Rating: 4.9 Stars
What members love about it: Absolutely love working in this welcoming, bright and encouraging office. Many spaces with different seating options and work setups for any flavor.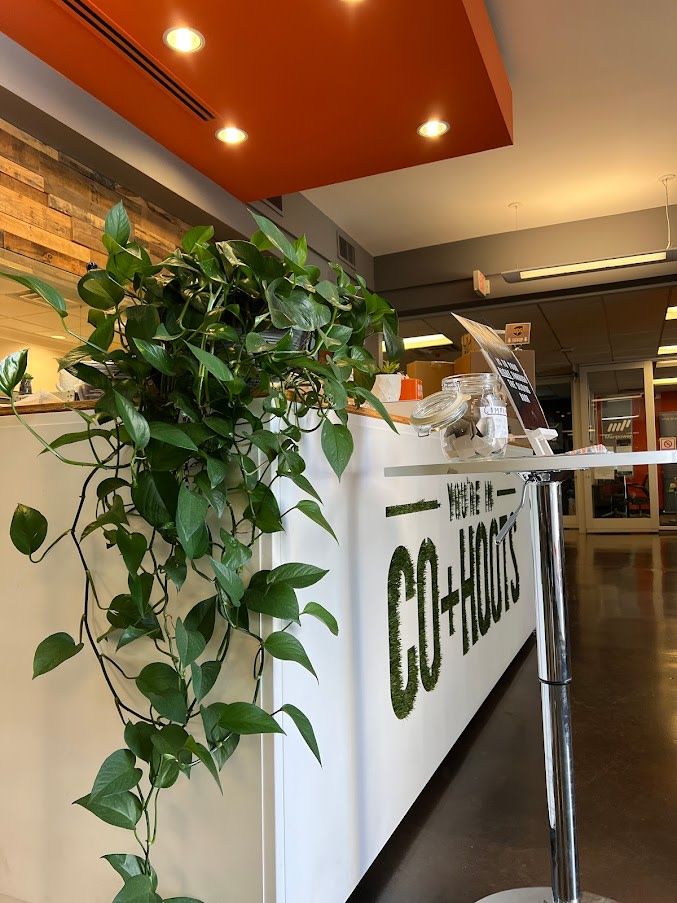 A welcoming place with an inclusive culture meant to increase productivity, facilitate collaborations and safely get your work done, CO+HOOTS is dedicated to providing its users with all the necessary features, amenities and resources required to work safely and build connections with fellow users. With everything from flexible memberships to dedicated desks and office spaces, this can be your home away from home when it comes to work. Click here to find out more.
Google Maps Rating: 4.9 Stars
What members love about it: This place is the perfect hybrid of "hip co-working" space and a professional private office.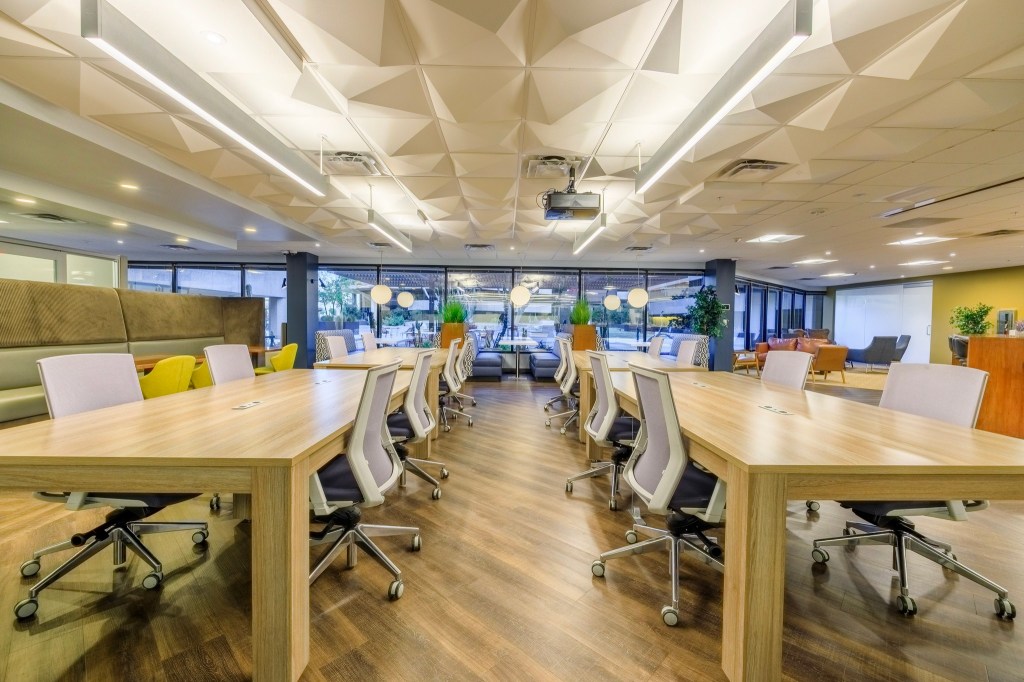 Located in the Biltmore Center, Workuity offers extraordinary workspaces that combine flexibility, community and connectivity with the sophistication that small businesses, entrepreneurs and startups demand. This makes it an ideal office space solution for all. Featuring fully furnished private offices, high-tech conference rooms, coworking, month-to-month leases and no long-term contracts, to name a few, find out why Workuity is the coworking space for you.
Google Maps Rating: 4.9 Stars
What members love about it: Beautiful and modern facilities and very helpful staff. I definitely recommend them!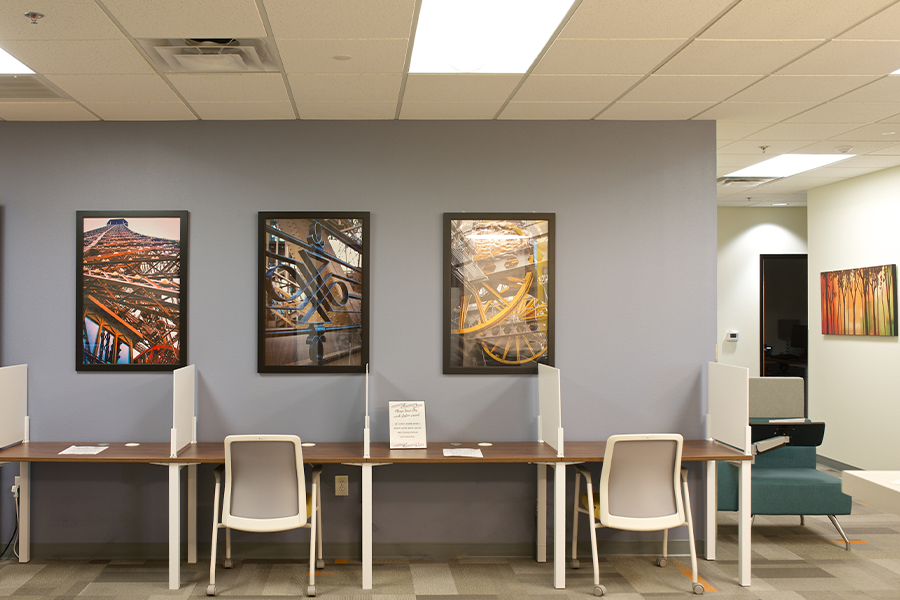 Office Evolution is located in the East Valley of Phoenix and is dedicated to providing users with the intimacy of small-town living while enjoying the amenities of an exciting city. Their modern facility features spacious private offices, flexible coworking spaces and fully equipped conference rooms. Reservations can be made by the hour, day, week or year with no monthly membership fees or long-term commitments. For more information, click here.
Google Maps Rating: 4.8 Stars
What members love about it: Great vibe, great people and a great place to get work done.
The McKinley Club is set on redefining the lines between office, coffee shop and home with private offices, dedicated desks and community spaces that nurture creativity and productivity. This coworking space fosters collaboration and networking is bound to happen naturally with users enjoying cold brew, rosé and beer on tap. With the idea of creating not only a unique coworking space but also turning Phoenix into a more vibrant, inclusive, creative and prosperous city, The McKinley Club understands how important surroundings and the right environment are to influencing ideas. For more pricing information, click here.
Google Maps Rating: 4.8 Stars
What members love about it: If you're looking for an entrepreneurial, tech hub of people who want to get stuff done, Galvanize is a great place to plant your flag and cowork.
Whether you are looking for a local innovation hub, a collaboration and meeting space or a space for remote workers to drop in, Galvanize is dedicated to providing a custom coworking solution for you. Located in the downtown Warehouse District and designed to spark your creativity, it is ideally located to help you get your work done and give you plenty of options for after-work activities. For more information about all-inclusive pricing and flexible month-to-month options, check out their website.
Google Maps Rating: 4.7 Stars
What members love about it: Our experience at Expansive has been nothing short of excellent so far. The facilities stay clean, there is a great water system in place, and the internet is very fast and reliable.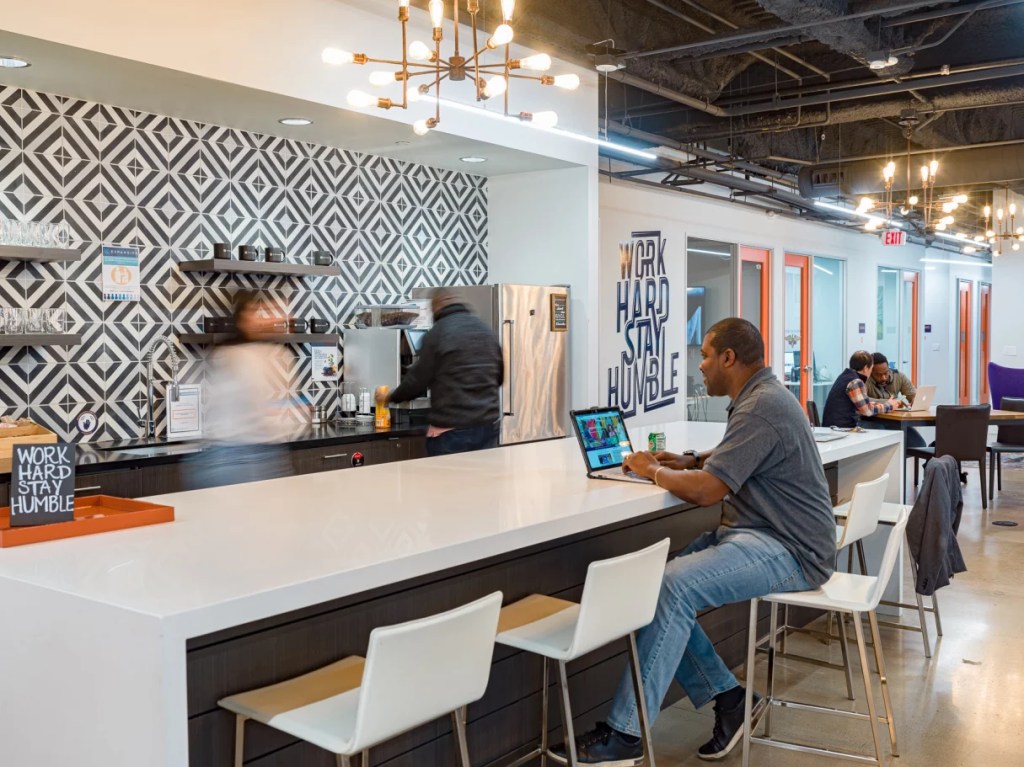 Expansive is located in the heart of Midtown on the Central Corridor and features 14 floors of workspace with balconies on each of them. The contemporary building was built in 1985 and offers panoramic high-rise views from every window. Users can take advantage of SmartSuites, private offices, dedicated desks, coworking spaces, conference rooms and virtual offices. For all the details about Expansive, click here.
Google Maps Rating: 4.6 Stars
What members love about it: They have taken the best parts of working in an office and eliminated the drawbacks. The environment is lively and energetic without being loud or unprofessional.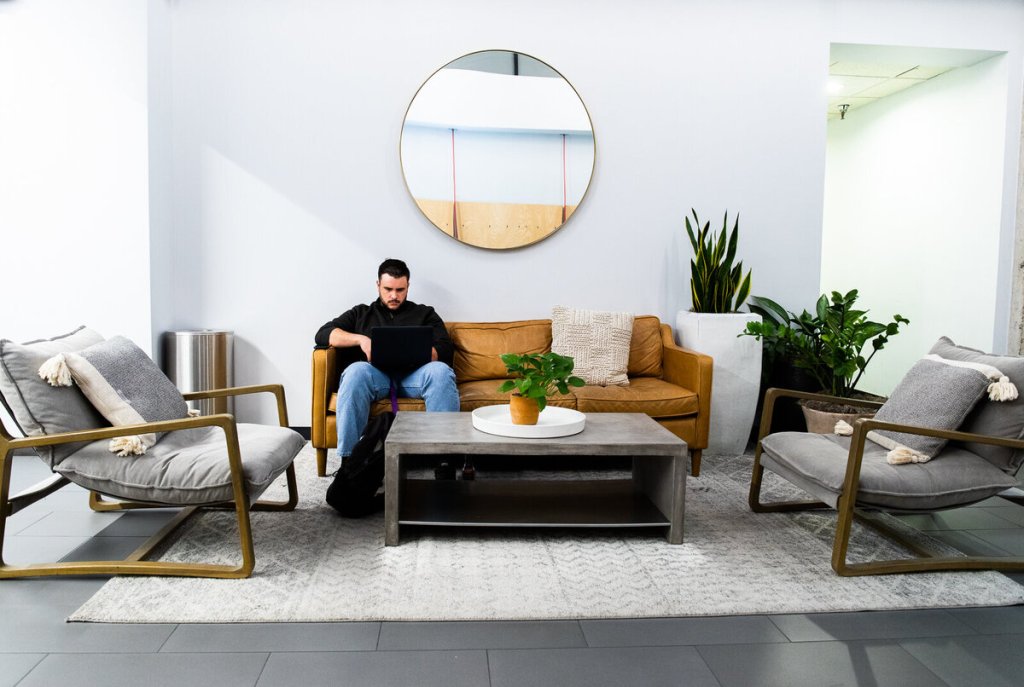 The Department is a place for thriving businesses in the heart of downtown Phoenix. It provides modern flexible workspaces set in a vibrant professional community of innovators and businesses seeking community, connection and growth. This coworking space has been designed to accommodate everyone from the digital nomad to the C-suite executive and can be scaled from one person to a whole team. Check out their website for more information and pricing.
Google Maps Rating: 4.5 Stars
What members love about it: Unparalleled flexibility and a leadership team that's personal and genuinely cares about their tenants.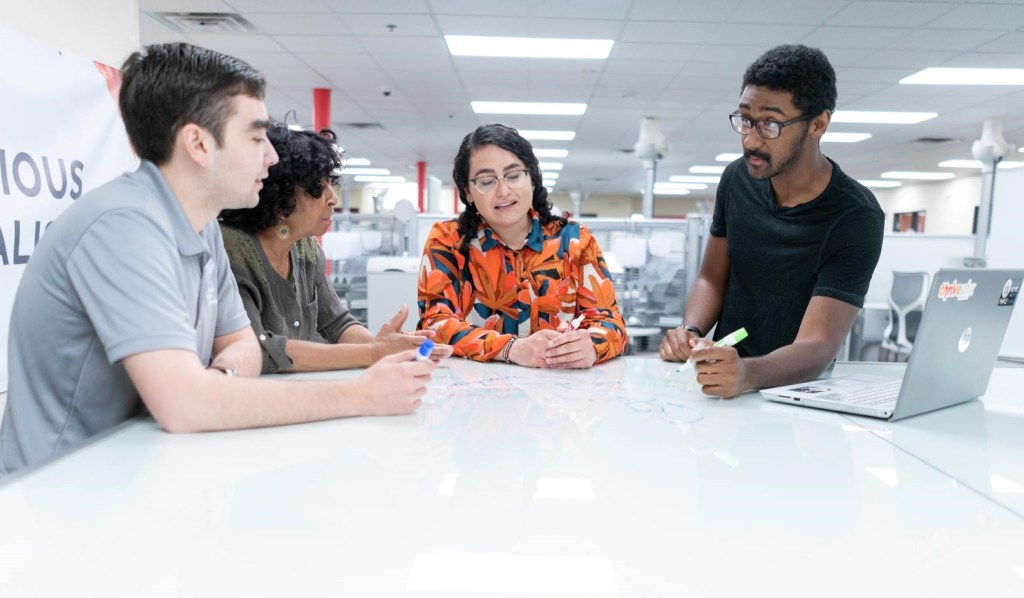 MAC6 Entrepreneurial Center offers 150,000 square feet of space including traditional and non-traditional private office suites and a variety of coworking office space solutions. The coworking spaces target entrepreneurs, growing businesses and professional service providers. There are no long-term contracts and users can choose from open space coworking areas to private offices and conference rooms. For more pricing information, click here.
Google Maps Rating: 4.5 Stars
What members love about it: It's a convenient, centralized location which makes it perfect for meeting with clients from all over the Valley.
Regus is located in the Paradise Valley where users can enjoy having a presence in the diverse city of Phoenix while taking in mountain views as they work. This striking building features floor-to-ceiling windows, private office spaces, large meeting rooms and a dedicated car park for when those all-important meetings take place. For breaks, Stonecreek Golf Course is right across the street. For pricing information, check out their website.
Methodology: We compiled this list by looking at Google Maps Ratings for coworking spaces across Phoenix and selected the best rated according to Google Reviews aggregate scores. Google Maps Ratings shown in this article are valid as of September 2023.
When necessary, reviews have been edited for clarity.