Another year of GCUC USA in the books, and what an incredible three days it was in Denver. Yardi Kube is proud to have once again been a premier sponsor of GCUC, continuing our relationship with the fantastic group who put together such a great event.
Day 1 on Monday was Camp GCUC, as usual, and the attendees were treated to extensive in-depth sessions with industry experts, educating them on financing, technology, community building, and branding.
Let's recap some of the main takeaways from camp day.
Finance
Led by Jerome Chang of Blankspaces, this was a discussion on the nitty gritty of this and any business: money.
Jerome explained (as we detailed in our e-book), that the number one way to make money as a coworking operator is through lease incentives. And everyone isn't going to be able to get venture capital funding. Getting help from friends and family is more common than you'd imagine, and you'd be surprised how much fundraising can help you get your business off the ground. Also, keep in mind that receiving an SBA loan for coworking isn't likely.
"The coworking industry today is like the hotel industry of the 1950's," Jerome said. He links the rise of aviation in that decade to the rise of corporations diving into coworking in this decade now. According to Jerome, that will be the biggest driver in the coworking movement.
Consider that the average traditional office space will have about 165-185 sq ft per employee. In a coworking space it could be as low as 50-70 sq ft. Feel free to book common areas at up to 150% capacity, because your space won't always be full (gym membership logic – overbook because not everyone works out simultaneously). But keep in mind your biggest moneymaker will be meeting rooms. They're priced higher per hour than any other amenity or space in your office and should be made open to the general public, not just your members.
Virtual memberships provide a low cost entry to members wanting to just test out the industry. While individually, these memberships won't be the core of your income, it is a source of unlimited potential with no space restrictions.
As an example, Jerome stated that his Blankspaces model typically consists of 35-50% of space allocated to private offices. And it's important to make over 70% of your total square footage into rentable space if you want to make the most profit possible.
Technology
Led by Bill Jacobson of Workbar, this session focused on what technology to incorporate into your space depending on how many members you have. To break this down as simply as possible, there are four phases in which to consider escalating levels of tech.
Phase 1 – Up to 100 members
Focus your technology on needs such as reservations, Wi-Fi, and building a website. Get to know your member base, start simple, and invest in internet infrastructure.
Phase 2 – 100-200 members
This is when CRM comes into play. Member communication becomes an important step in your business. You'll also need to focus on greater security as your space grows.
Phase 3 – 300-800 members
This is the 'integrated' stage. Digital displays, increased staffing and reception, video conferencing and publishing technology are now at the core of your space.
Phase 4 – 800+ members
Customization. At this point you're operation is sophisticated enough to need a mobile app, providing a seamless digital experience. You'll need elite real-time reporting, especially if you're beginning or continuing to expand to more locations. Door access becomes even more vital here when so many members are coming in and out daily.
Community Building
As the emcee of the three day event, Tony Bacigalupo was quite visible throughout the conference. He specifically led this engaging discussion on community in the workspace, alongside Ashley Proctor, founder of the renowned 312 Main in Canada.
Attracting members when all they care about is a physical space to work out of is difficult. Keeping them, and the staff, excited, is difficult as well. At the core of attracting and retaining members is getting them to understand that this is community based, event based, relationship based, and anything other than just quiet people working in solitude.
A major key is always having something to invite people to. It will often be as simple as 'muffin Mondays' or a happy hour. Member-focused sessions such as show and tell (once a month), go a long way in building community.
Branding
This session, led by Christine Andrews of ACME Works, aimed to describe the intricacies of branding your space in a unique way.
Use the 'sharp nail – heavy hammer' analogy. The sharp nail is a compelling, motivating, relevant statement(s) about your space. The heavy hammer is essentially drilling the message in repeatedly.
Make your story easy to understand. People in general will move on very quickly if not compelled. Your brand is everything your company stands for, but keep in mind your customers are your heroes, not the brand itself. They build that brand and make it come to life.
"Every time you deviate away from your brand, you are wasting your money." I personally thought that quote really stood out from Christine's presentation, because you need to be consistent and not ruin everything you've spent so much time, energy, and financial resources setting up.
Finally, keep in mind that your first impression can happen many ways. Whether its social media, in person, on your website, on the phone with a staff member, or any other way a prospect is introduced to your business, that first impression is a significant impact on whether they decide to explore further. Make sure every piece of the puzzle is aligned to properly represent your brand.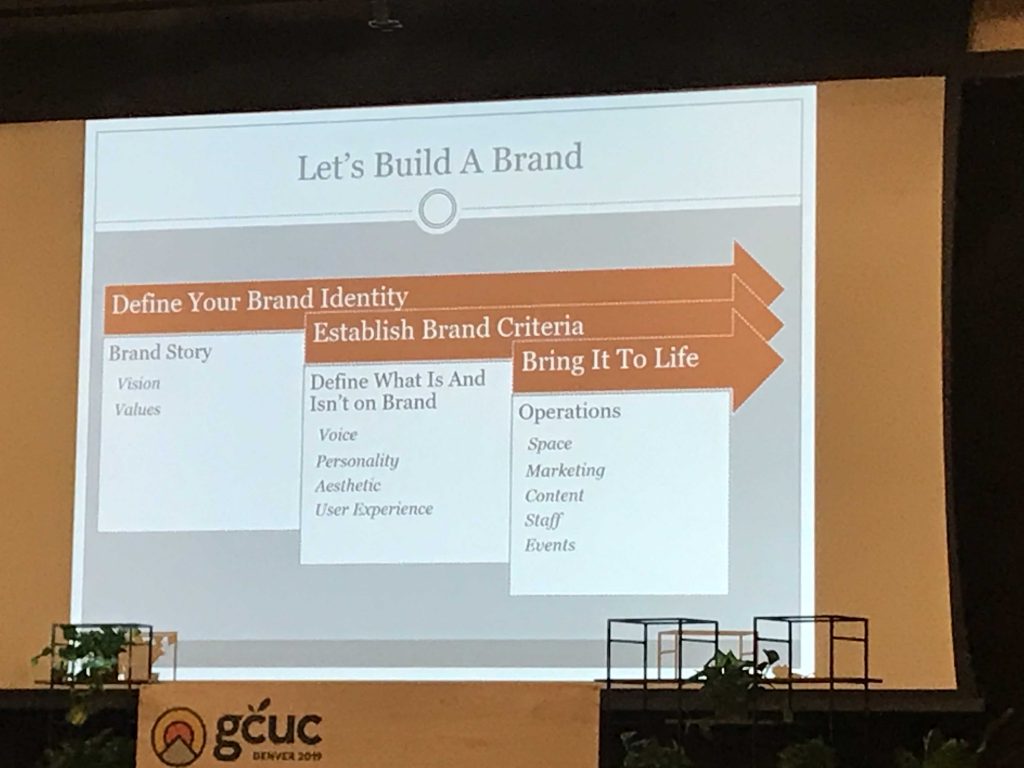 That's a wrap for Camp GCUC! What an incredible learning experience for those new to the industry, but also for those growing within coworking as well. Days 2 and 3 were so jam packed we had to split them into their own separate recap!