Working from home is here to stay— at least for the foreseeable future — and companies and employees alike are trying to make the best of their new working conditions. CommercialCafe conducted a survey to assess how workers adapted their living spaces for work. Specifically, 4,384 workers participated in the survey to collect work from home data, which included questions about their living arrangements, current work setup, what they deemed essential for an in-home office and whether they had plans to create a dedicated workspace at home.
Countertop Zoom calls
Although 34% of participants said they conducted daily tasks in their kitchen, living room or bedroom, nearly half reported they are satisfied with their current arrangements. Meanwhile, roughly 18% reported having a dedicated office space prior to the pandemic, and only 1% rent a space outside their homes — which may be especially disheartening to those thinking about a possible comeback of the office.
Nevertheless, while some headlines decry high vacancy of office properties in formerly bustling city centers, there are signs of a rebound, as evidenced by search volumes for office spaces since last year's March collapse. Many companies will want to reawaken the pre-pandemic enthusiasm of the Sun Belt's tech scene and booming Austin office space or similar locations in the South. To that end, coworking companies and developers have taken this opportunity to update their properties' HVAC, electrical and filtering systems, in addition to implementing a host of other features that would render workplaces safe again.
As mentioned on a recent Realcomm webinar, getting workers back in an office requires offering benefits they cannot get at home. Years ago, that would mean access to copy machines, printers, high-speed internet or other software advances. Now, with those benefits available anywhere or simply obsolete, the attraction to the office is heavily reliant upon interpersonal connection and relationships that Teams and Zoom cannot replicate. It's a significant concept behind the rise of coworking over the last 5-10 years, and one that operators are hoping is the main driver for a rebound in flexible workspace demand. While a traditional office setup may hinder social distancing because of tightly packed cubicles, flexible spaces can adapt common areas, encourage use of private offices and space out seating at shared desks to facilitate a safe return to work.
A lack of privacy at home
About two-thirds of survey participants reported sharing their homes with either friends, roommates, a partner, kids or relatives – with only 29% of respondents living alone. Avoiding distractions and maintaining a professional attitude, especially during calls, has been especially challenging for parents with kids and workers with pets around the house.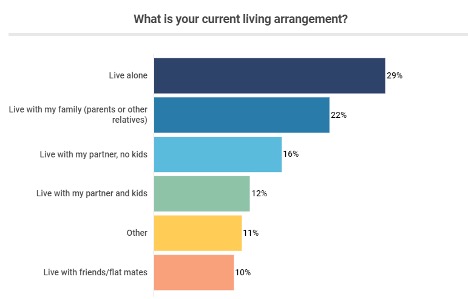 While people have different expectations when it comes to creating a good working environment within their homes, a clear majority pointed to the importance of a stable internet connection. Similarly, more than half of respondents agreed that ergonomics was an important feature for workers spending hours sitting in front of their computers. However, two-thirds said they still lack a proper desk or chair.
For 41% of survey respondents, privacy is paramount. Unsurprisingly, 69% said that a dedicated workspace or room within their home was also essential for a work-from-home setup. Even so, 26% of participants felt nothing was missing in their current home office setup.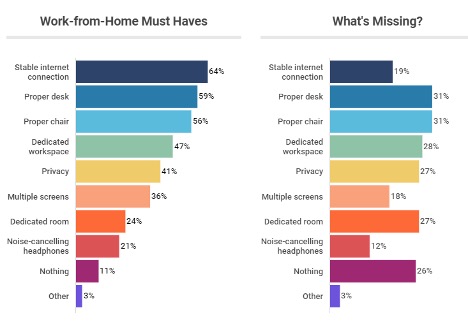 For more insights into respondents' plans to improve their work-from-home arrangements, as well as details regarding our methodology, read the full survey on the CommercialCafe blog.