So let's pick up where we left off. We talked about the Coworking site tours we did on Day 1 of FlexOffice Conference 2018, the sold-out workshop on Coworking partnerships, and the first two breakout sessions of Day 2.
Day 2 Continued
Let's Talk Baseball
Following that up, we attended a session that answered 'What inning are we in?' and unfortunately it had nothing to do with home runs or strikeouts. Instead, Michelle Bodick of the Instant Group and Scott Homa of JLL tried to explain what 'inning' we're in when referring to the Coworking boom.
Per JLL research, by the year 2030, 30% of all US office space (currently 4 billion sq ft) will be 'flexible workspace'. From 2010-present, there has been a 23% annual growth in the flex space sector, a remarkable number. However, in the same time frame, only a 1% increase in overall U.S tenant base.
For reference, JLL uses 2010 as its baseline for these stats because that is the beginning of WeWork's massive growth.
And Michelle explained that based off her company's data, approximately 1000 new centers open every single day worldwide. That's three per day! No signs of slowing down, yet.
And even though we hear so much about the major players such as WeWork and Industrious, 68% of the market is made up of operators outside the top 6 national companies.
Once again, the term 'flexible' was the word of the day. Owners and landlords are focusing on this flexible environment even in non Coworking office spaces. Collaborative spaces, relaxing areas, fun and games events, focus on comfortable tables and chairs, these popular shared space traits are penetrating the traditional office market.
Winning the Enterprise Occupier
In the ever growing transition to corporate coworking, it's important to position your space to be able to nab the enterprise client.
Beth Moore, Managing Director of CBRE, explained that operators should not be putting all their eggs into a 15-20 year lease. You need flexibility to evolve with the market.
Jerry Sweeney, President of Brandywine Realty Trust, mentioned that in a partnership with LiquidSpace, they make spaces available for very short time periods, weeks or months, furnished or unfurnished, to provide an even more specified option to all clients. Convene, WeWork, and others are major tenants of his corporation.
Justin Stewart, President of Industrious, referred back to the previous session by saying he thought we were still in the first inning even though its taken quite a long time to get here. He gave an example that resonated with everyone in the room:
Verizon mentioned to him their worry about continuously losing young talent. Industrious told Verizon that they'll provide such an amazing space and environment for Verizon employees, that for everyone who leaves the company, they'll discount the rent each time. In 11 months since joining Industrious space, not one Verizon employee had left the organization.
As we know, shared spaces are more than aesthetics. With an estimated 38% of the global workforce identifying as 'freelance', the talent pool to pick from is expansive. They know better than to take a tour and think they just saw a beautiful furniture showroom as opposed to somewhere they can work and grow.
Justin explained that even though WeWork is often considered the big bad bully of the industry, the hardest cities to go into and establish a foothold as an operator are those without a WeWork presence. The industry needs WeWork to continue to thrive in order for all operators to keep growing.
Hospitality and Workspace
What is hospitality? With it being so vital to shared spaces, its important to know what it means. Hospitality is defined as the friendly and generous reception and entertainment of guests, visitors, or strangers.
Gabrielle McMillan, CEO of Equiem, immediately points to airlines and hotels as prime examples. When you receive exceptional hospitality at a hotel or on an airline, it stands out immediately in comparison to others. Use that as a guide to what you want your space to convey.
Simple non monetary gestures like memorizing names, having water bottles on the seats of new members, and knowledgable reception staff, are vital in the member experience. From millennials to Gen Z, the trend of needing these simple amenities will continue.
The WeWork approach to community is successful with events, and niche operators are typically excellent when it comes to hospitality. The panel mentioned CommonDesk as a space that thrives on great hospitality.
This was a quote that stuck from this session. It's not having a good app that brings people to your space, its what that app is linking to. In other words, you can have the best app ever, and we know how vital mobile apps are. But if there's no personal touch, no amenities, no unique benefits to your space, the best app can't sell it for you.
Be wary of oversaturating your members. Amenities are a critical element of hospitality, but just be authentic. Experiment with different ways to collect and implement feedback.
Day 3
Building Portfolios as Integrated Ecosystems
On Friday, we began the day by checking out how landlords are positioning their assets to meet flexible needs of their workforce.
If you're going to spend $200/sqft to build out an amenity, you'd better monetize that. Make sure you maximize it to its full potential.
The panel, led by Austin Flajser, President of Carr Companies, and Zach Wade CEO of MakeOffices, explained that signing a 10 year lease when in reality you aren't sure what your company's status will be in 5 years is a huge mistake. And it's a common one.
MakeOffices is spending about $60,000 a year in their digital marketing, which is a cost Zach feels isn't nearly discussed enough. But they've seen results. They have about 4500 desks right now, gaining about 170 members a month, while losing only about 107. The average is 82 sqft per desk and they've shortened spaces such as the kitchens to increase desk area.
They also successfully host once a month breakfasts where members can present their company info or projects. This has been a very popular event in their spaces.
Austin believes the future holds a mixed bag for operators. Single space operators will be hit hardest if there is a downturn in this huge boom we've continued to see for years. Maybe some operators have grown too quickly at an unsustainable pace. Be judicious and raise the necessary capital before expanding. Use partnerships with landlords to your best advantage.
At MakeOffices, they've seen some turnover which they dont mind at all. 70% of companies that grew to 20+ employees 'graduated' to their own space/office. Knowing that part of their success is due to such a great Coworking environment is an asset to MakeOffices, even if they leave.
Does Design Drive Culture and Productivity?
Our final session of FlexOffice Conference 2018 featured Jerome Chang, Founder of Blankspaces, and Todd Runkle, Managing Director of Gensler.
The most successful spaces are the ones with a mix or balance of the 4 pieces in the image below.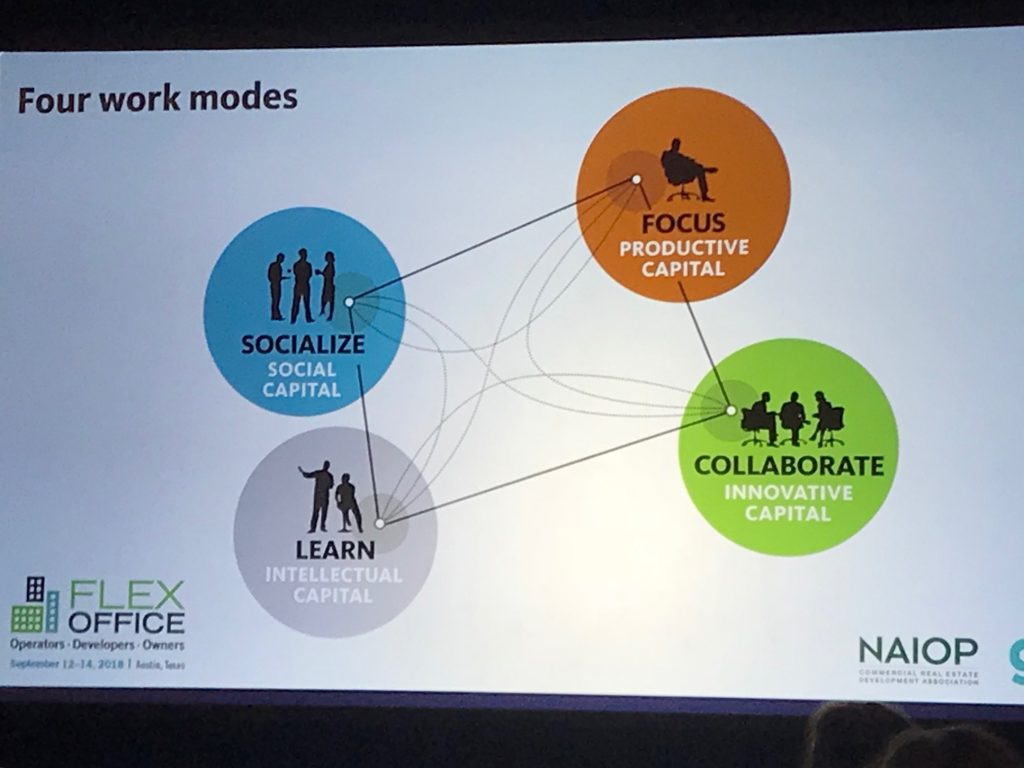 It's important to note that only 37% of your spending is on tangible items for members. The other 63% is split among systems, HVAC, wall decor, and other miscellaneous expenses.
Research shows that employees who take time during the day to literally and figuratively 'unplug' are 1-5x more likely to report a 'great experience' at work. And by the same token, workspaces that offer the latest technology are 3-7x more likely to offer a 'great experience'.
Gensler's approach is that coworking spaces should lead with brand and culture, not trendy design elements. So we ask again, how much is too much? Can't overspend on physical amenities. Use logic and build culture organically and through your members.
We had a fantastic three days at FlexOffice 2018. The event continues to grow and bring together the biggest names not only in the shared space world but also the CRE industry as well. Already looking forward to 2019.