The difference between a shared workspace and coworking space can be confusing, especially with workplaces such as business centers, executive suites, shared spaces and serviced offices, which provide members with a similar experience.
The difference between a shared workspace and a coworking space can vary between the vision of the space, the goals and needs of the members, as well as the demands of their businesses.
It's important to keep in mind that there isn't a "one size fits all" for businesses that occupy both coworking and shared spaces. Here are some important details to consider.
What are coworking spaces?
Coworking spaces are generally ideal for start-up businesses and entrepreneurs looking for a better alternative to working from home.
These spaces are often home to freelancers, some of whom are just getting their name out and are not tied to any specific business or industry.
The benefits to these spaces are that they provide start-ups with an opportunity to stay lean, an inexpensive avenue for community and collaboration, as well as a lively and dynamic atmosphere that inspires productivity.
What are shared workspaces?
A shared workspace differs in that they usually cater to and house more established businesses. They often provide more traditional amenities to meet the needs of their clientele. It's not to say that established businesses aren't able to use, or be attracted to, coworking spaces, or vice versa. However, for now, it's just how most of these shared spaces are operating.
While corporate coworking is on the rise, shared office spaces are more focused on having more equipment such as fax machines, copiers, audio-visual equipment, as well as professional-looking office furniture. Some shared offices even operate as executive suites, with amenities such as full reception services, a kitchen and even private offices cut off from the rest of the space.
It's also important to note that coworking spaces usually lease to members for a period of 3 to 6 months whereas shared office spaces such as executive suites usually lease for 12 months.
There is no single correct method for finding the best office space to suit your needs and scale to your growth. To help gauge your needs, it's best to understand what services you will be receiving within the workspace.
Included services and perks
When coming to a coworking space at an entry-level option, you'll enjoy a clean desk, access to Wi-Fi, as well as small perks like snacks and coffee. However, you may pay a little more for supplies and other services, such as access to printing, copying, and meeting/conference rooms.
For freelancers, remote workers and small business owners always traveling, coworking spaces are ideal. You get what you need most and don't pay for space or services you won't use frequently.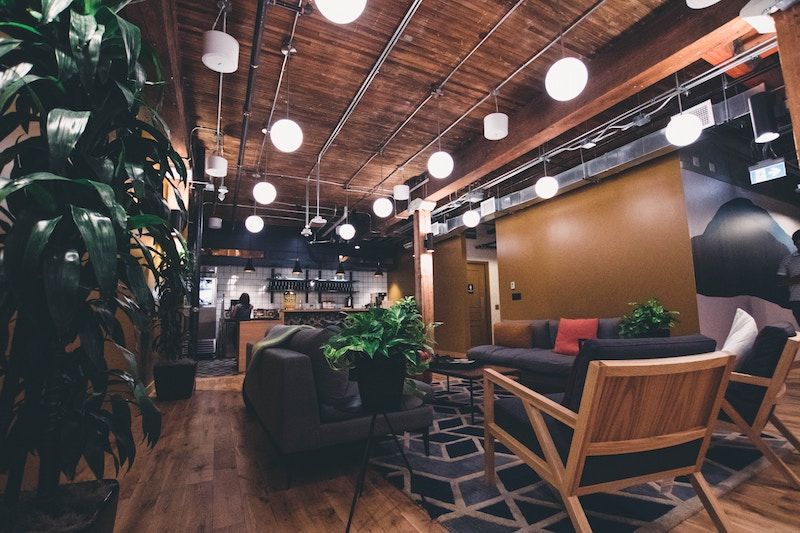 However, when your business is picking up and you're meeting with more clients and partners than you are other members in communal office spaces, you may want to consider picking up an option for a private office. While coworking spaces do offer private offices, having a fully serviced shared workspace can provide a more direct and professional connection with your clients. You can have meetings and provide for your clients without any interference from other members.
Furthermore, soundproof spaces for calls, as well as up-to-the-minute technology for video conferencing and document sharing, are all available in many quality workspaces.
Community and collaboration
The core values of coworking are community, openness, collaboration, sustainability and accessibility. Your coworking space will probably have a community manager or a facility operator for handling these interactions. Take advantage of the benefits allotted to you with those values.
Recently established and corporate businesses have been collaborating with coworking spaces to go after some of the hottest start-up entrepreneurs and freelancers available today. Community in coworking isn't limited to ping-pong and happy hours. Interactive events, day-to-day activities, as well as projects that bring different start-ups together all unite a coworking space. Often, you can build collaboration within the coworking platform, especially if it's equipped with community management software components.
However, this can also cause a hindrance in productivity if you're looking to work without noise or socializing. If you're looking to work for yourself by working by yourself, you may want to go with the amenities found in a traditional office. If you need more security measures in place to protect your work and your records, a private office may be more ideal.
However, keep in mind that financial institutions have a keen interest in coworking spaces recently, so security advancements will continue to grow. Not to mention, as the expansion of corporations in coworking continues to expand, our industry will have to (if it doesn't already) satisfy all their traditional needs.
It's best to take these all factors into consideration for the best experience as well as the growth of your business.
For more information on how the Yardi Kube platform can transform your Coworking space or shared workspace, please click the button below.