While the pandemic altered the way people interact with offices and the workplace, interest in coworking spaces is still on the rise due to the flexibility they offer. They support hybrid work models, which have become the new normal since the pandemic, allowing them to be a favorite office space solution for many companies wanting to accommodate their employees' needs.
According to the most recent CommercialEdge national office report, flex space providers saw an increase in occupancy rates approaching pre-pandemic levels, directly related to the increase in demand for these spaces. For example, WeWork reported a quarter-over-quarter rise in occupancy in its first quarter results of 2023. And this rise is not expected to slow down. On the contrary, according to a report from The Business Research Co., a market research and intelligence firm, the global coworking industry is likely to see a 17% annual growth, reaching more than $30 billion in 2026.
More than 115M Square Feet in 5,600 Shared Office Spaces
According to CommercialEdge, shared space has an overall market penetration of 1.7% of office space, with the majority of coworking locations concentrated in the top markets. Manhattan has the highest volume of flexible office spaces, with 291 locations amounting to 13.8 million square feet, representing 2.8% of stock. Brooklyn has an even higher market penetration of office space (5.7%) however, the total square footage only adds up to 1 million square feet. Some of the other top markets with a large coworking presence include Washington, D.C. with 6.5 million square feet (1.7% of stock), Los Angeles with 6.5 million square feet (2.2%) and Chicago with 6.2 million square feet (1.9%). When looking at the overall market penetration, flexible office spaces fall below other office niches in most markets. Nonetheless, it's important to note that the presence of such office spaces will likely continue growing to meet the increasing demand.
And not only are 2,000 traditional coworking operators recognizing the potential of flexible office space – including top players Regus, WeWork and Industrious – but building owners are also offering their own flex space as solutions for vacant inventory.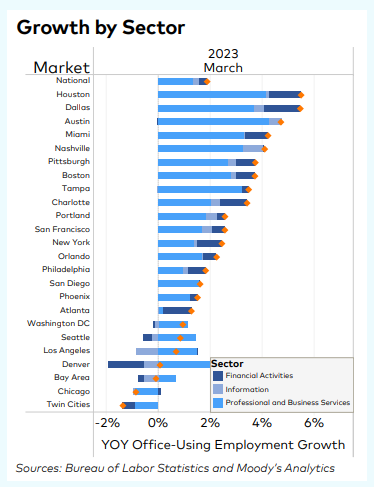 In-Office Employment
While remote work continues to be a popular option among employees, office use continues to remain essential in specific sectors. To get an idea, here's how many jobs were added to the labor market in April:
Hiring in the financial activities industry added 67,000 jobs to the labor market, generating a 2% increase since last year.
Employment increased by 23,000, with insurance carriers and related fields adding more than 15,000 jobs and real estate more than 9,000 jobs. This helped erase the 1,000 jobs lost in the previous month.
The professional and business services sector also played a major role in the acceleration of in-office employment by gaining 43,000 jobs in April.
The need for coworking spaces is driven by companies recognizing the importance of flexibility in working from an office, causing a demand for such spaces across the nation. Flexible office spaces will continue to become a more significant niche in the office space market. And with proper tools, such as coworking software, they can become the best office space solutions for users. For information on how Yardi Kube can help you manage and market your coworking space, schedule a demo below.