Europe is a vibrant, culture-rich continent that combines world-class cities with professional, eager minds who are growing the Coworking industry. As of 2016, there were over 2,500 Coworking spaces throughout Europe, comparable to, if not exceeding, the amount in North America. Let's take a look at 6 amazing Coworking spaces in Europe, some in major tourist hubs, and some on roads less traveled.
Volumes – Paris, France
Paris needs no introduction. It is one of the cultural, historical, economical and tourist capitals of the world. In the center of the city you'll find Volumes.
What's most unique about Volumes is that it combines Coworking, a makers space, and a food lab.
Makers Space is an onsite workshop fully equipped with a laser cutter, milling machine and a 3D printer (check out their website for details on this, it's fantastic).
The food lab is ideal for restaurant startups, amateur chefs, and anyone who wants to break into the culinary field. It is as unique a set up as any Coworking space Europe offers and in an amazing location of the city as well.
Remix – Paris, France
Why stop with one great space in Paris? Among its many other offerings, we'll spotlight Remix.
Remix boasts 5 locations throughout the city, all with ample space, huge conference rooms, multiple smaller meeting rooms, and kitchens. Their membership prices are posted directly on their site and they all provide 24/7 availability, which is huge.
Work.Life – London, UK
Another massive tourist destination, as well as a booming entrepreneur hub, London is home to some of the most unique Coworking spaces on Earth. Check out Work.Life which has 6 locations in the city.
Work.Life specializes in shorter term memberships and more intimate spaces, with hotdesk plans available even by the hour. For as little as £4 per hour, you can grab a desk and get to work!
Poligon- Ljubljana, Slovenia
Ljubljana is the capital and largest city in Slovenia, a small nation famous for its mountains and outdoor adventures. It's also home to one of the largest university populations in Europe. Therefore, young professionals are thriving in Ljubljana, in Coworking spaces such as Poligon Creative Center.
Poligon is set up in a former tobacco factory, and features a makers space similar to that of Volumes. It is one of the more affordable locations among this list, and has memberships in various lengths to meet any need.
It is one of the more spacious locations you'll find, and they also keep a fully stocked bar, which doesn't hurt.
LikeBirds – Ghent, Belgium
Ghent is actually the second largest municipality in Belgium, a beautiful, historic Western European nation. In Ghent, you'll find LikeBirds.
They promote a sense of calmness and professionalism, in a spacious location with ample windows and light. LikeBirds has several membership plans based on length of stay, and offers one of the more unparalleled rooftop terraces of any space in Europe.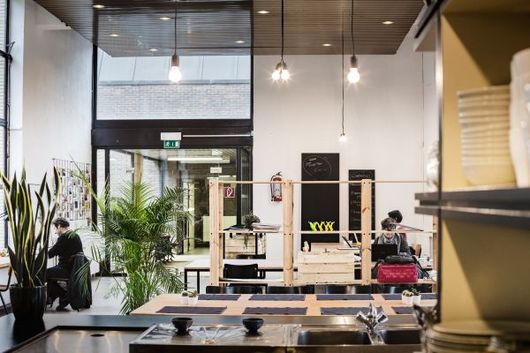 Betahaus – Barcelona, Sofia, Berlin, Hamburg
Betahaus is one of the most popular locations in Europe, with locations in some of the biggest cities on the continent.
The location in Sofia is its newest. Sofia is the largest city and economic center of Bulgaria. It was also rated as one of the top 10 cities for start up businesses in the world.
Betahaus features include a Skype room, a full service cafe, table games, and it's dog friendly. They also offer discounts for members to bring a guest.
There are now Coworking locations in virtually every major city in Europe. If you're traveling and need a space to work out of temporarily, most of these offer short term memberships. Or, if you want to develop a Coworking space, these are some of the ideal locations to model.
While they may differ in size, location within a city, or amenities to offer, they all have a central focus: Community.
As is evident, Coworking in North America and overseas maintains its core values and focuses on enhancing the work experience for everyone involved. For more information on how Yardi Kube can make that work experience even better, please click the link below.